Understanding Google My Business & Local Search
Google Maps – User edit abuses happening to Payday loan company?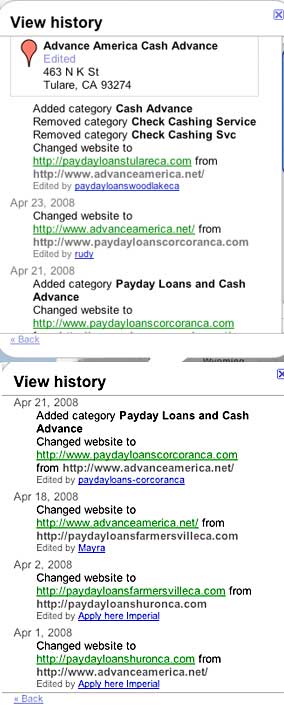 I have little sympathy for even the best companies in the payday loan business. Many of them charge as much as 400% interest (as reported in the WSJ) and manage to illegally get their hands on limited Social Security payments (again according to the WSJ), a practice the government is attempting to limit.
Google seems to offer some implicit support for these less than savory tactics of this industry by not having removed their mapspam that I reported at here and at SearchnEngineland.
It appears that in an industry that is used to preying on people is now preying on itself. Advance America is a legitimate (I say that advisedly as there are reports of them charging close to 400% interest) payday loan company that is listed on the NY Stock Exchange and has 2800 bricks and mortar locations. Their local Map's listings, which they have never claimed, are apparently being hijacked in an effort to claim an affiliate fee.
The search in Google Maps for payday site:advanceamerica.net returns 1941 listings for Advance America, a reasonable approximation of their listings in Google Maps. A little digging into the "View History" of the edited records details a veritable tug of war in a number of the records with a company that varies its domain based on the location but appears to have no role in the process other than an affiliate referral role.
I find it ironic that the sharks of the loan industry seem to be eating each other's lunch and appear engaged in abuse of the Google End User edit facilities in Maps that was introduced in mid March.
If Google is relying on community policing to keep these kind of practices under control, the system will self destruct. The folks using these services  don't much care and it appears that the aggrieved party doesn't have a very sophisticated practice in regards to local. These types of edits should automatically trigger some sort of Google review.