Understanding Google My Business & Local Search
Comparing Yahoo & Google Market Share in Local
Comparing market share and market share trends between Google Maps and the various Yahoo local properties is complicated by the fact (pointed out by Steve Espinosa) that Yahoo spreads their local traffic across three sites: Yahoo Local, Yahoo Maps and Yahoo Yellow Pages,
To clarify I once again went back to the well and asked the ever patient, Heather Hopkins of HitHiwise, to compare Google Maps with all three of the Yahoo local properties. Hopefully this will satisfy Steve's desire to characterize the issues fairly.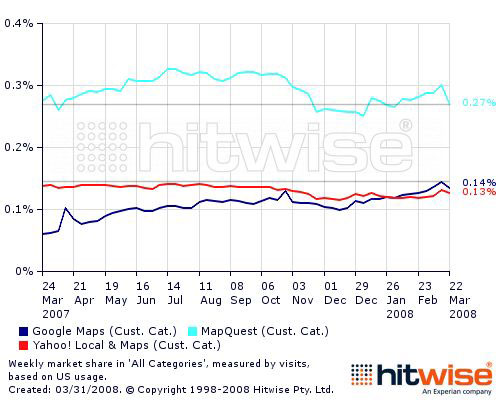 The outcome:
•Yahoo is still down roughly 7% for the year
•Google has increased their market share by almost 100% and has managed to pass Yahoo with their January 10 Pack upgrade.
If you add MSN Live Local share to Yahoo in the event of a merger they would have greater market share than Google Maps. But the momentum is certainly on Google's side and with their increased display of local listings in the main search results, the need to go into Maps has been decreased.