Understanding Google My Business & Local Search
Google Maps: Everyone can create a business listing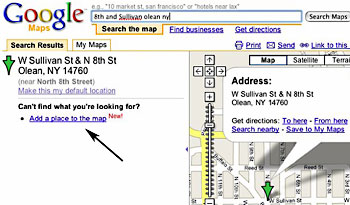 The new Google Maps feature to allow every user to create a new business listing is now live. The program was hinted at broadly by Carter Maslan, Maps Product Manager last month in an interview and confirmed today by Google. The new Map feature was seen as early as Sunday.
Here is a comprehensive slideshow detailing the process step by step. To view the slideshow click here.
Here are some items of note about the process: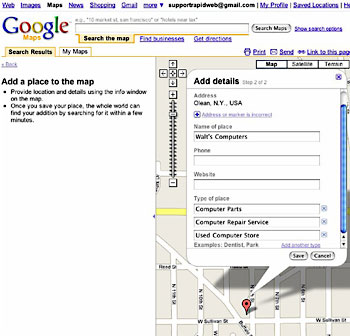 •Slide 1 (Picture 7)- The option to add a place to the map is available at the bottom of the page on ANY Map's search. In my case I searched for 8th & Sullivan, Olean NY as it was the location of a shop that I utilized but had a very low profile.
•Slide 2 (Picture 9)- Login is required and will be used to track changes per user. Also note the New! features listed
•Slide 3 (Picture 10)- Note that Google allows a business to be added without an exact address but by dragging the marker to the location
•Slide 4 (Picture 11)- Not all details need be available to create an entry
•Slide 5 (Picture 12)- Google uses a much more flexible categorization in the "Type of Place" entry than currently exists in the Local Business Center. While you type, it makes suggestions as to existing categories. As you type suggested categories appear but if you continue you are allowed to enter a category that is not in the suggestions. In this case, I added "Used Computer Parts"
•Slide 7 (Picture 14)- Google notes that the new place has been saved and will display to all users in a few minutes
•Slide 8 (Picture 15)- Sure enough on the search Walter's Computers Olean NY the pin was immediately available in Maps.
•Slide 9 (Picture 16)- It was also available for immediate editing and claiming by the business owner .
•Slide 10 (Picture 17)- A history of edits is visible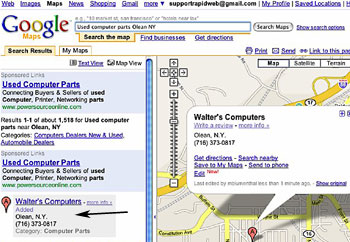 •Slide 11&12 (Picture 18&19)- Note that all category information, including the "invented" category Used Computer Parts are visible in the record and the changes can be saved again.
•Slide 13 (Picture 20)- The record shows up on the search in Maps on the "invented" category of Used Computer Parts Olean NY. This suggests a much more flexible and dynamic categorization structure than was previously available. It will be interesting to see when this feature is made available in the LBC.
•Slide 14 (Picture 21)- Note that Walter's Computer is also returned on the broader search, computer parts Olean NY, in the third position in Maps.
•Slide 15 (Picture 22)- While Walter's record is returned immediately in Maps, the query computers parts in Olean does not return Walter's in the Local OneBox. It will be interesting to see if or when that occurs.
Google is moving aggressively into user generated content for their Maps product. Their belief is only through the wisdom of the massses can they achieve the accuracy that is necessary in this type of product. Obviously the potential for abuse is large, but the implications are even larger.
Clearly, if this experiment in UGC works Maps will have significantly more detail and nuance. If it can be made to work, Maps becomes a dynamic representation of the ever changing reality that is the real world.
If it doesn't work, God help us all. On the plus side, my career as a Mapspam sleuth will really take off.