Understanding Google My Business & Local Search
Google Maps:The Authoritative SpamBox?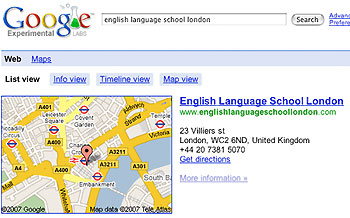 Update: 03/04/08 1:30 pm This listing no longer shows on the search.
The Authoritative Onebox when returned on general search phrases is very powerful. The result dominates the page. Google assumes that they know exactly what the searcher wants. We saw last December the impact that this had on a florist in Denver. What happens though when that Authoritative OneBox result is spammy?
An English reader has reported a case where the general search phrase "english language school london" is now returning an Authoritative OneBox on the Google results page that certainly isn't totally on the up and up.
The address is actually occupied by the Little Italy Restaurant, the photo with the Maps record is bogus, the phone number is used by several businesses but seems to be located at another address, the domain owner has several websites with apparently fabricated adresses. The domain record indicates that the domain holder of record is located in another part of town with the same phone number. It may well be a legitimate business (how legitimate could they be?) that has gotten overly aggressive an getting an address near the center of the city. Maybe they were just following Google's own ill considered advice and getting a mail location closer to the center of the city.
The problem however is made worse by the fact that Google has returned an Authoritative Onebox for the result, adding legitimacy to the suspect business and denying legitimate exposure to the other businesses providing the service. The problem here is certainly with Mapspam but perhaps even more so with Google's confidence that they know so surely what the searchers intent is and return such an "indisputable" result.