Understanding Google My Business & Local Search
Today's Google Mapspam report – 75% chance of rain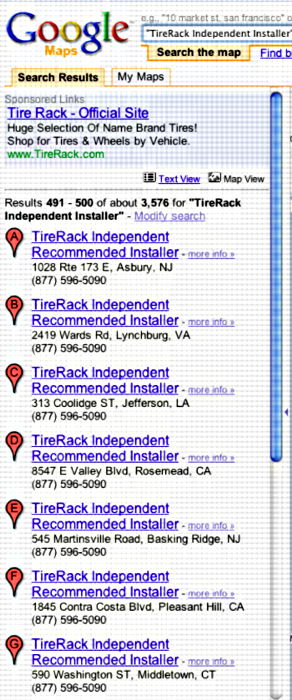 Update: 12/23/07 The Tire Rack mapspam has been removed. Since none of the other spam mentioned has yet to be removed, I presume that the company rather than Google did the removing.
There have been three new reports of Mapspam at the Google Maps For Business Group in the last few days.
Our reporter in the trenches of the florist industry, Cathy, noted a variation on an old theme where a national flower reseller with local phone exchanges makes a common appearance in the Maps for the top 60 or so markets but without any local address (note the map indicator is round

and not pointed

.)
I also noted a new type of Mapspam where a national company, The Tire Rack , created a listing for each and every independent tire store that may or may not carry their product and gave each a local business name of "TireRack Independent Recommended Installer" a local business address and the corporate #877 number.
Thus each local Tire Rack installer is listed in Google Maps twice, once with their own phone and once with The Tire Rack's #800 (877-596-5090). The number when called took me to the corporate switchboard. They seemed to have achieved a new upload record with 3,576 listings. I tired at listing 500.
This practice does not bode well for Maps or independent tire installers. Obviously the day is near in Maps when every Addidas shoe seller or Nikon camera store will be listed with the corporate phone number. And what local retailer wants to forgo their local brand identity to have the supplier of one of their product lines pick up the phone and do who know what with the call.