Understanding Google My Business & Local Search
Add Google Coupons to your main search results via Google Co-op

Google Coupons now offers the ability to return Coupons in your main search results via the Google Co-op. When you select the above button from Google Coupon search you will be asked to log in and taken to this page at Google Co-op beta for a subscription confirmation:
You can add information created by Coupons to your Google search results pages by subscribing to their Subscribed Links.
Whenever you search on Google in an area of their expertise, the first result you see will be relevant content they provide.
To subscribe to Coupons, select the Subscribe button below. To learn more about Coupons, you can visit their Google Co-op profile page and then subscribe from there.
On the profile page are presented with additional information about the Coupon Subscription from the Co-op (note that currently 57 others have subscribed):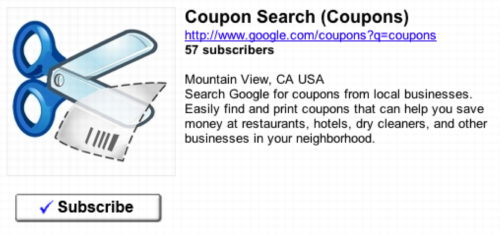 You are then shown what your subscribed link will look like on the main results page: