Understanding Google My Business & Local Search
Google now promoting Google Coupons with AdWords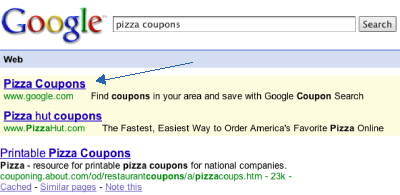 Google has started to advertise their Coupon search capability with Google Adwords (thanks to FathomSeo for great screen shots of this and the heads up).
When searching on "pizza coupons", the Pizza Coupons adword results take you to your local ads apparently based on your user profile and/or location. I for example, was shown coupons for Allegany NY when I clicked through the ad on the right (see image below).
When searching on just "coupons", the ad takes a viewer to the Local Business Center to add a coupon to their business record.
Given Google's recent addition of coupon oriented domains and their new searchable coupon interface, this new forward facing promotion was to be expected.