Understanding Google My Business & Local Search
First Case of Large Scale Abuse at Google Maps?
In the past there have been tales of skullduggery (see: Beware: Competitor Hijacks Google Local Business Listing? Maybe, Maybe Not!) at Google Maps which have proven to be false. It appeared that Google Map's verification system was robust and while there may have been algorhytmic problems, there had been no reports of abuse….until recently.
It appears that some companies are managing to spam Google Maps local listings via Bulk Upload. This abuse was first reported to Google in the Maps for Business Group on 7/19/07 and substantiated on 7/20/07. Google's response from Maps Guide Jen:
Right now there's no easy way to report these listings or get them removed,
especially if there's a lot of them. If you can let me know the specific
search term that you're looking at, I might be able to do a quick quality
check.
The abuse reported was multiple local listings by TechPros. In a brief check of other areas, their listings were found in all major and minor metropolitan areas of the US that I checked (perhaps in every zip code), using the exact same PO Box and phone number on every lisitng. In the example shown below Google Maps show 487 results for Techpros near Chicago, IL. Google is also showing 264 for Techpros near Olean, NY (by way of reference Olean barely supports 5 computer repair facilities).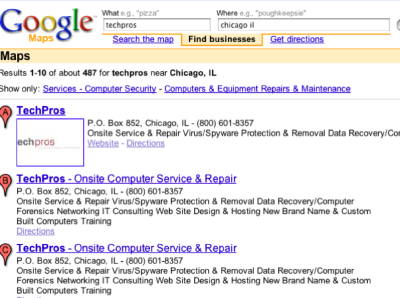 A similar situation seems to exist for a company called RentAGeekInc.com, showing results of 148 for Rent a Geek near Olean, NY and 603 for Rent a Geek near Chicago, IL (click on image at right for a screen capture of results).
It is important for public confidence that Google not only take care of these listings immediately by removing them but that they implement a better system for preventing these types of entries in the future.