Understanding Google My Business & Local Search
Hitwise confirms: Dramatic rise in Google Maps traffic due to Onebox update
Last week I reported on a Hitwise report that Traffic to Google Maps increased by 26% from Jan. to Feb. due to an increase from upstream Google traffic and I surmised that it was likely due to the OneBox change.
Today, LeeAnn Prescott from Hitwise confirmed that the traffic increase was likely due to the change and that the week lag in data that I had noted was an artifact of the data collection and Google rollout procedures. LeeAnn noted: If the Local One Box change happened in the middle of the week, there may be a lag. It also may have been rolled out in different markets separately.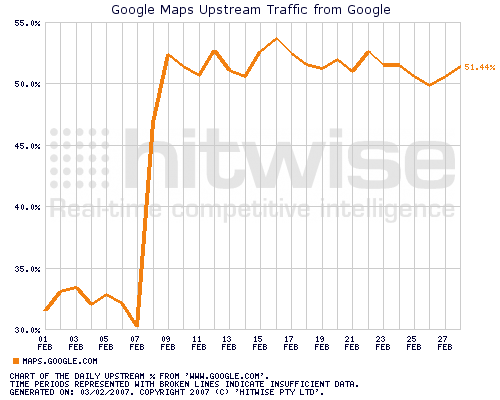 I had noted previously that the Local OneBox change had provided between 10 and 12 new entry points into Maps from the prime territory above the fold on the main search results.
To give a sense of how large this increase is one needs to realize that just this increase is roughly equal to all of Microsoft's Local traffic and greater than the combined traffic from Insiderpages, Judy's Book, Ask & Yelp.
Given Google's dominant share in search, even small changes on their main search results page creates incredible traffic for any of their secondary products. It demonstrates clearly how difficult it will be to unseat the leader in the local battle on-line.