Understanding Google My Business & Local Search
New Google Local Discovery: Search by Photos
On mobile, Google is showing a new image based search interface. It is currently a supplement to the 3 Pack for local keyword searches and it shows local results visually based on an image matching the search query.
The new mobile focused search method does not yet appear on the desktop. It is not clear how permanent this new feature is but it is interesting in a number of respects.
It appears well below the Local Pack and organic results on keyword searches and displays local listings with an image that matches the keyword query. If you search for engagement rings williamsville on mobile you will see the local listings showing engagement rings, their business name and a star rating.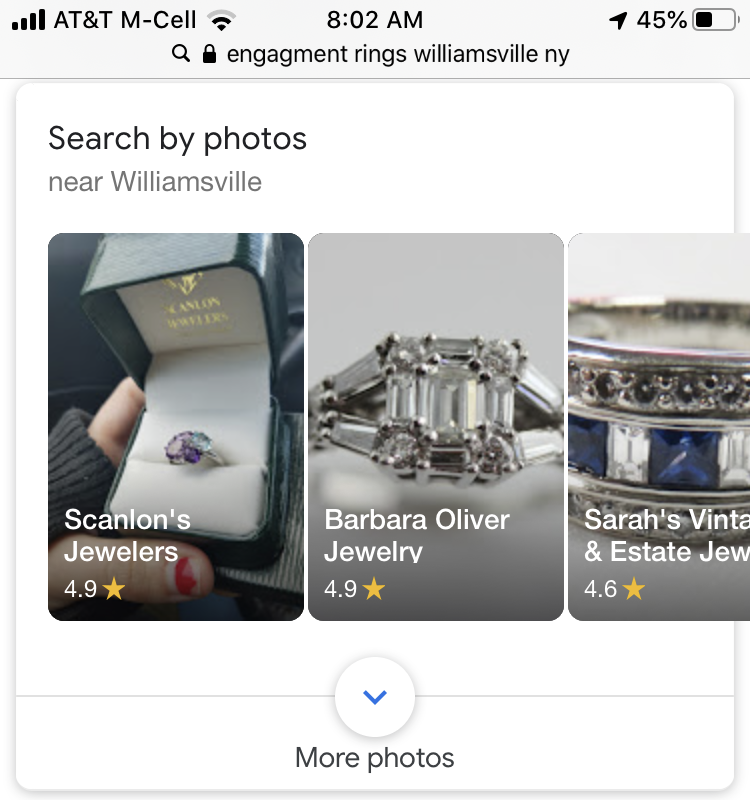 If on the other hand you search for earrings williamsville, ny, it will show many of the same local listings but with images of earrings instead of engagement rings.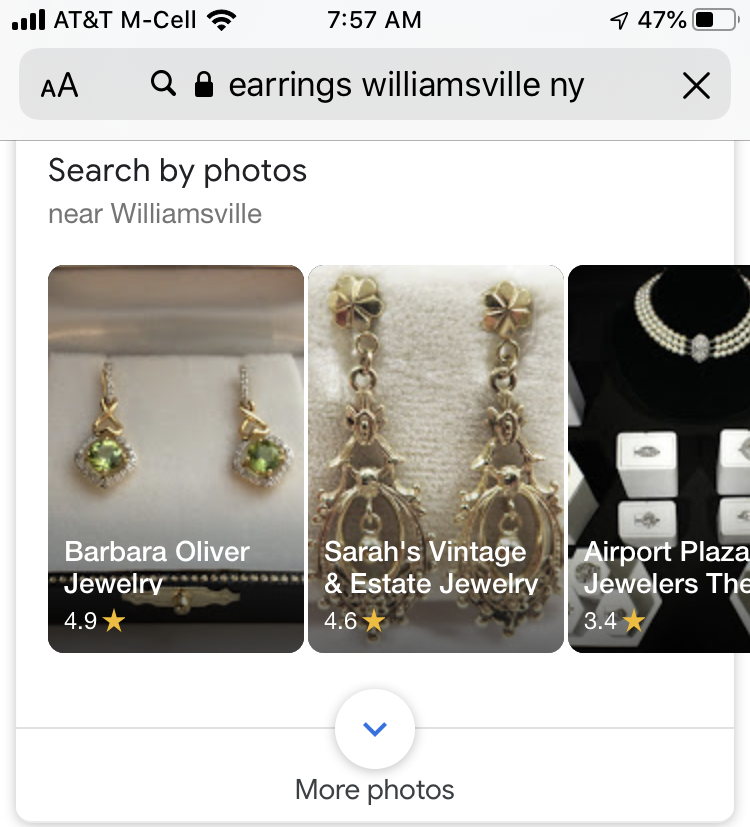 As has been Google's typical behavior over the past few years, this new search interface heads rapidly "down the rabbit hole" into a totally immersive experience allowing the searcher three ways to enter the netherworld.
A given image can be selected and the user will be taken to that business's profile. If the user selects "More photos" immediately below the image carousel or selects  "View All" when they scroll to the right the user is taken to a grid of images where the user can either view the locations in the Local finder list view or again click into the image to see the business profile.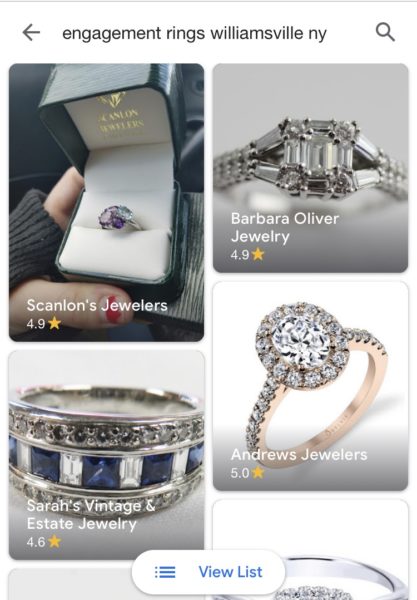 Some observations:
1- This is a highly visual search metaphor and is very engaging.
2- It obviously relies on Google's ability to understand the content of an image that has been uploaded to the business's listing. We have seen similar examples of Google's image understanding recently  where we saw Google swapping out images in the local pack based on the user query.
3- Google is clearly using sophisticated image recognition in  this endeavor and is quite successful at it. 
For now this new search metaphor is buried down the page, several scrolls below the ads, the pack and the organic results. But if users accept this new way of interacting with local businesses it could at some point replace the Local Pack for discovery.
Minmally it should be seen as one more way that Google understands a business entity, what they do and what they sell. 
Once again Google is ringing the image bell and local merchants need to pay attention. Your listing will win or lose its conversion battle based on the images that Google chooses to show.
It means that not only will you need multiple images for every important product category that you sell and want to show for, but it means that the images need to be done so well that they stand out from the competitors in the battle for clicks. 
It's time to start hiring a pro or learning how to take luscious photos yourself.