Understanding Google My Business & Local Search
Google Local: What Happened on August 1st to Increase Views in Insights?
Earlier this week, Jack Thumser of August Ash in Bloomington, emailed me about an significant uptick in Google Maps Insight's views in a number of his Google  local listings. Michael Wallace of TallWave noted the same issue on Twitter today.
Jack's result were across Office furniture stores, grocery stores, a grocery delivery service and a sheet metal fabricator.
The office furniture stores and grocery stores have AdWords campaigns with location extensions, but the sheet metal fabricator does not.
Here is the pattern that Jack noted as universal across all of his listings: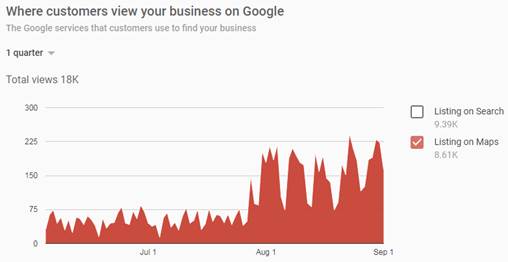 Given the multiple reports, I checked a 12 listing sample to see if there a similar result. Of the twelve I looked at 6 showed similar upticks but 6 also showed nothing. At least in my examples, both search and Maps showed the significant late July/ early August uptick.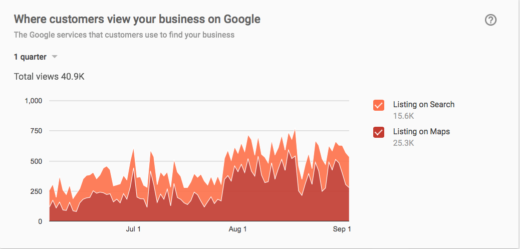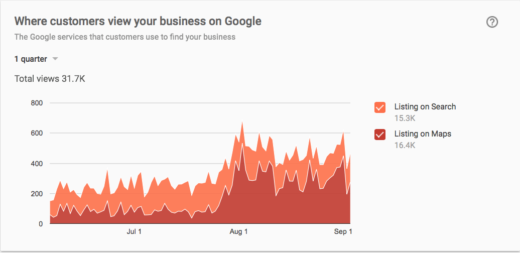 I saw the uptick in retailers and restaurants. As I noted, though, only half of the listings I looked at showed the pattern. Many, like this listing, did not.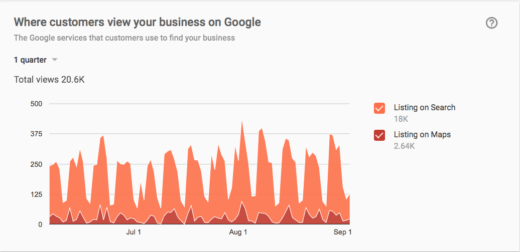 On Twitter, Joy Hawkins suggested that it might be due to using Location extensions but while that applies to some of the listings where I saw an uptick, by no means all.
And it isn't universal as Jack noted but the Insights views increase appeared on a large enough sample that it seems more than coincidence. The uptick that I see is across both Maps and search.
I am curious if you saw this uptick, if so is there any pattern to the category for the businesses?
What percentage of your businesses saw the increase?
Are they located within their primary geography or outside of it (ie in the burbs)?
Some other trend that you have spotted?