Understanding Google My Business & Local Search
LocalU Advanced Santa Monica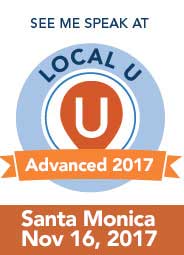 Local U Advanced is my favorite conference of the year. Not that I speak, or even that I contribute to the organization but because it's a time and place where folks that are really interested in Local SEO and Local Marketing get together.
And not just get together in a spirit of collegiality and sharing. Everyone comes willing to learn and and everyone seems to leave knowing that they are not alone. More than one attendee has found new employment and everyone has a good time.
The venue is the historic Santa Monica Bay Women's Club, a short walk from the beach and the Santa Monica Pier. We' ll be staying at the Marriott Courtyard Santa Monica and have negotiated a nightly room rate of $220 for attendees if booked by November 2nd.
Speakers include Darren Shaw, Joy Hawkins, Mary Bowling, Mike Ramsey, Will Scott, Ed Reese, Megan Hannay, Joel Headley and myself.
The agenda is not quite finalized, so we are offering a great deal on admission at $549.
We will be announcing the agenda and topics on September 12th. The pricing goes up on the 12th but even without an agenda you can count on it being a great event.