Understanding Google My Business & Local Search
Home Service Ads Alert – Read this Post

As Google's Home Service Ads rolls out to more verticals and more markets1, more and more service area businesses are going to feel the impact. While some of the details are changing it appears that Google is charging forward with Home Service Ads2. The impacts go beyond those covered by in this great article: How Google Home Services can Affect You – by Dave Squires.
You need to read this post in the forum: Service area businesses no longer ranking?
Items to note.
 It appears that when HSA is introduced to a market, that all service area businesses in the affected verticals are removed from the 3- Pack display.
 If they pay for HSA and Advanced verification they can move to the top of the new Ad unit and show "Google guaranteed" notation.
If they don't, they are shown way down the new Ad unit's equivalent of the Local Finder. Perhaps we can refer to this display as the "HSA Finder" although it might be better named Local SAB Hider or perhaps the "SAB Loser".
Many of the affected SABs are marching forward with getting an office, either real or imagined, to deal with their predicament. An interesting example of how Google pushing in one direction creates unintended (but predictable) consequences mucking up index quality. They just got the SAB stuff squared away.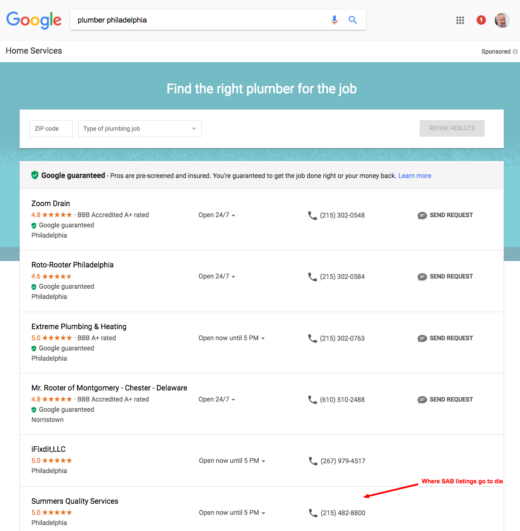 1 – The verticals have been expanded from locksmiths and plumbers to include HVAC, electricians, garage door, roadside assistance, auto glass, painting, handyman, home cleaning and even appliance repair categories. And now includes the Los Angeles, San Diego, Sacramento, Stockton,  San Francisco, Philadelphia, Atlanta markets (and perhaps more).
2 – I know that a lot of folks speculate that HSA type pay to play will reach all categories. While I do see Google increasing Ad inventory & exposure across the whole of the local ecosystem I see the HSA as a unique response to categories that had both high spam in their listings and in their local Adwords campaigns. The problem was so egregious that Google is going to the length of Pinkerton background checks on employees of businesses in the program. That has to be expensive. And it is an indicator of the level of problems in these categories. Imagine the press and lawsuits when one of these spammers killed or robbed someone? It was a mess and Google chose to offset their costs with an pay to play approach much like in Shopping ads.