Understanding Google My Business & Local Search
Google GMB Upgrades Bulk Listing Insights and Provides High Traffic Store Data
There are two recent Google My Business Insights roll outs that are happening that should benefit bulk listings and those businesses with higher levels of foot traffic.
Bulk Insights Download
Evan Older reports on G+ that Google is now shipping the ability to download aggregate data in a spreadsheet form on all of your listings.

The report currently includes these fields per location:
| | | | | | | | | | |
| --- | --- | --- | --- | --- | --- | --- | --- | --- | --- |
| Total searches | Direct searches | Discovery searches | Total views | Search views | Maps views | Total actions | Website actions | Directions actions | Phone call actions |
I knew that this product was in beta and the fact that Evan is seeing it likely means that it is rolling out more widely. It has not yet been included in the GMB new features page  So it might be a while before you find it in your bulk dashboard.
Update: As a note this download is now also available via the card view of the dashboard so if you are an agency and have management access to all of your client's listing you can download the information in bulk into a spreadsheet and then, using macros, assign it to each client. It can go back 18 months.
Return Customers and Popular Times
Also first spotted by Evan Older in the Local Search Pros community and reposted at the Local Search Forum and now confirmed by Google is the inclusion of Popular Times and this new view, Return Customers, in the Insights dashboard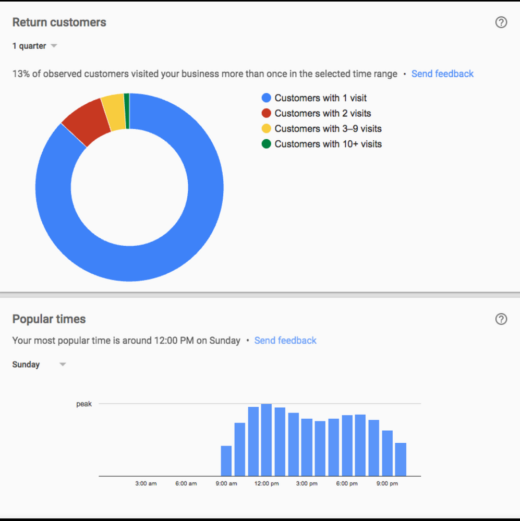 This is apparently being rolled out now in stages and shows both frequency of return visits and moved the popular times information from the Knowledge Panel into the GMB dashboard for any given listing. These data points do not yet appear to be available in the bulk upload.
I am curious how many of you see either or both of these new reports and the bulk download?