Understanding Google My Business & Local Search
Google Is Automating Ownership Conflict Resolution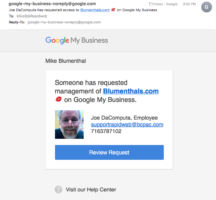 Google has started to roll out a new feature to the Google My Business Dashboard that automates the process of regaining control of a listing that is in another account.
Besides verification issues and the inability for a business to easily get rid of inappropriate photos this has been one of the huge problems that small business owners have confronted. Historically it required requesting access and then waiting, praying, waiting some more and then trying to get in touch with support. The old system was not for the faint of heart.
Making this part and parcel of the dashboard will go a long way towards minimizing the time and expense of resolving these.
Here is the announcement in the forum (and the updated help page):
If you're a small business owner, time is your most valuable asset. That's why when it comes to managing their Google My Business account, some small business owners choose to get help from employees, friends, family or other third parties. Sometimes when the people who manage the account move on, we don't always remember to take back control of the account until they're gone and it's too late. 
This week we're launching a new feature to enable users who can't get in touch with the current verifier of a listing to start the verification process themselves. This will allow you to prove you are the current representative of the business and take over the location without having to track down the previous manager. 
Just follow the steps to sign-up and request access from the current listing owner and then follow the instructions you'll be emailed if the current listing owner is unresponsive.
I just ran through the process and it is very straight forward. I am not sure once a rejection happens what the appeal process looks like but one hopes that it is rational:
Some notes from Google:
Currently only available only applicable to users who verify listings individually, no bulk verification listings will be eligible for this new process.
After the claimant verifies as the new owner the original owner's listing will become a duplicate. It will be unverified and their edits will not be live on maps.
Unless access is granted anything provided by the original owner, like photos and review responses, will not be transferred over.
Reviews and customer provided photos will remain attached to the listing.
Apparently if the requestor is initially rejected, he/she may request and appeal (again within the dashboar). Although it appear that there will be times (when, who, why is unclear) where in some circumstances Google will not be able to offer the option to appeal a rejection from the current listing owner.
The update is rolling out now and will over the next few days be available to all if there are no glitches found.