Understanding Google My Business & Local Search
Final Curtain Call – MapMaker Closing March 31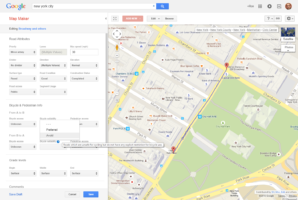 In November, Google announced that MapMaker would "graduate to Google Maps". That's corporate speak for close. But what's good for Google and the bulk of their users is not such a smooth transition nor offer as many benefits to the professional Local SEO practicioner.
At the time of the announcements I noted that it made sense for Google if not for the SEO community for the following reasons:
1- It will create a single unified interface to be maintained going forward.
2- Google will have a single source for changes so that things like categories and address standards can be handled in a unified way.
3- There is one less data pipeline feeding their local database keeping the whole (complicated) system simpler.
4- There will be one less spam vector.
5- They will have a unified community management process. This means fewer support people, fewer forums etc. and lower Google costs and reduce their code base maintenance.
Right on schedule, I received this email detailing the end date:
Map Maker Will Close on March 31


Dear Mapper,As announced in November 2016, Google Map Maker will close on March 31 and many of its features will integrate directly into Google Maps. You will still be able to make edits until then, but we encourage you to focus on reviewing pending edits to make sure contributions are published to Google Maps before March 31.Since 2008, the Google Map Maker community has edited and moderated millions of features to improve the Google Maps experience for users worldwide. The Google Maps team has since brought Map Maker capabilities, such as adding and  editing places, to our desktop and mobile products to make it easier for more users to keep their communities up to date while at home or on the go. These changes have empowered many more users to update the places they care about, view the status of their edits, and moderate other users' edits.

This change will enable us to focus on providing the best editing and moderation experience within Google Maps on both desktop and on mobile. We will continue to roll out new features on an ongoing basis.

If you have any additional questions please check our post on the Map Maker Help Forum.

Thank you,

The Google Map Maker Team
But like with all Google "transitions" its one step forward and in this case at least one step (or maybe .8 of a step) back. Things like listing history, alternative names, additional categories and hidden listings are not currently being surfaced in the Maps interface and we don't know if they ever will be. The problem with a lowest common denominator interface is that information that is useful for diagnostics will disappear.
The reality is that MapMaker was a kludge with a butt ugly and arcane interface to things like adding roads. It was quirky and a pain to work with. Hopefully by adding its features to a modern platform some of that can be mitigated. And hopefully some of the tools that gave more insight into a listings inner data points and history might some day be revived. I am not holding my breath.
Google unfortunately doesn't prioritize the types of tools and data that Local SEO's need to do their job. But our job always was and has been to do our job with the tools that we have available. That won't change.