Understanding Google My Business & Local Search
Google Local Shopping Ads Showing in Pack Style Layout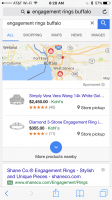 This morning I spotted a new Google Local Shopping ad that places local inventory in a pack like display with a Map. This new ad unit is obviously a display test of their shopping campaing local inventory ad unit as it is not visible by many. For the history see Jennifer Slegg's write up here.
It is not particularly well marked as an ad and it fills the whole screen above the fold on my iphone.
It is immediately followed up by another ad with site links which takes up a fair bit of space and then finally, the 3 pack. By this time, the user is 2400 pixels down the screen.  Oh yes and  local organic results below that.
Lots of scrolling and scrolling and scrolling and did I mention scrolling? The page is ugly to boot. I have added a pixel ruler to give you a sense of the height of the ads before any local or organic content is seen.

Andrew Shotland pointed out an equally cluttered search result on Twitter the other day with a butt ugly screen shot of a search result showing an HSA verified pack plus local pack. Here's the search result screen shot from Andrew: