Understanding Google My Business & Local Search
Exploring Oddities of Reviews from the Web with Joy, Sergey & Priya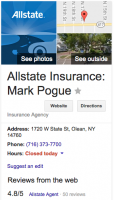 Conversations with Joy Hawkins, Priya Chandra and Sergey Alakov surfaced some odd behaviors with the new "Reviews from the web" Knowledge Graph feature. These 3rd party reviews were sometimes appearing and other times not when the Knowledge Panel was displaying.
After some testing, I determined that the specific query and its degree of relatedness to the actual entity seems to dictate whether the 3rd party reviews show in the Knowledge Panel.
For example "Dive Bar Olean" surfaces the 3rd Base Knowledge Panel but no reviews from the web while the search "3rd Base Olean" does surface the reviews. In a similar case a search for "Juliana's Cafe Coburg Au" shows the Knowledge Panel but no reviews while the more specific search "Juliana's Cafe Coburg Vic" does show them.
It appears that there is some degree of certainty dictated by the general relevance of an entity. I would postulate that if an entity has better relevance across more variations of its name it would be more likely to get the reviews with less accurate searches.
In other words for businesses that have a very low web presence and very few varieties of their names used in articles and links around the web, the less sure that Google is of the presentation. Thus a solid, on-going SEO campaign is likely to create a situation where these reviews show up more of the time with your Knowledge Panel.
Here are the searches and the resultant Knowledge Panels. On the left are the less precise searches that don't show the Reviews from the web and on the right are the more precise searches which do show them. :