Understanding Google My Business & Local Search
Google MyBusiness Email Verification Now Confirmed
Update 7/20 Google has confirmed the new email verification feature. It would appear that Google is auto selecting the email address to which to send the verification email. This implies all of the things that an algo based trust solution would entail; scrapping of the email from the associated website, ideally at the same domain, found on the contact us page and possibly in the footer, perhaps longevity of the domain and association. And like all algos, and thus their instruction to be sure you have access to it, wrong in some percentage of cases.
Google's statement:
"For select businesses, we now offer users the option to receive their verification code by email.

Before choosing verification by email, make sure you can access the address shown in the verification screen. If you don't have access to this email account, or you don't see this option, then please select one of the other available options, such as postcard.

To verify by email just click the Email option, check your email and enter the code we sent to you."
Kiran C Kumar spotted this option to verify a business listing via email when the GMB account is using the domain email. It is not clear if it is just a test or more widespread or if it also requires that the domain have a Search Console account. It is not yet mentioned in the help files.
I am asking Google for more details. Have you seen it?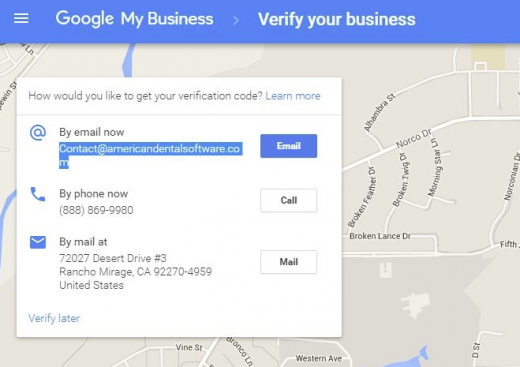 In related GMB editing news (this has been visible for a while) Google has increased their call to action to edit your listing if you do a brand search for a business for which you are the owner or the manager. Google first introduced authenticated Knowledge Panel editing in January. This upgrade is significantly more visible. The "edit information" choice allows you to edit primary data directly in the KP while the "Add Photos" and "Do More…" options take the user to the GMB dashboard.