Understanding Google My Business & Local Search
Google Rolling Out New Upgraded GMB – GMBL Interface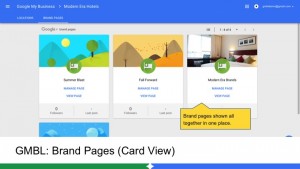 As we speak Google is in the process of rolling out Google My Business (GMB) & the Google My Bussiness Listing (GMBL bulk) interface updates with a logical integrated hierarchy that is consistent across both products. The upgrade provides improved navigation within any section of the product via improved menus (top and left) and breadcrumbs. It is currently visible to some users and will be visible to all over the coming week.
As of today I do not yet have direct access to the new interface and the help files have not yet been posted.
The interface adds modern navigational elements that create a consistency between the two dashboards and increases access to the many features regardless of the number of listings. It is arguable that these basic interface conventions should have been added quite a while ago, here's hoping that ease of use is a prelude to additional marketing functionality.
Some highlights of the interface upgrade:
Improved menu along left allows for ease in contacting support and adding a manager
List view is available to both basic GMB and GMBL whitelisted bulk users for faster navigation
Better distinction in the menus between Location and Brand Pages
Quicker access to deeper review & insight information
Here is additional coverage:
Joy Hawkins – Imprezzio Marketing
Linda Buquet – Local Search Forum
Are you seeing the new interface? If so what country are you in?
Here are some screen shots of the new interface.