Understanding Google My Business & Local Search
Google Now Featuring a Location's Popular Hours on Mobile Devices
Google just announced a new feature on mobile browsers, a chart showing the hours that a given business is popular. From their post:
Do you ever find yourself trying to avoid long lines or wondering when is the best time to go grocery shopping, pick up coffee or hit the gym (hint: avoid Monday after work)? You're in luck!
Now, you can avoid the wait and see the busiest times of the week at millions of places and businesses around the world directly from Google Search. For example, just search for "Blue Bottle Williamsburg", tap on the title and see how busy it gets throughout the day. Enjoy your extra time!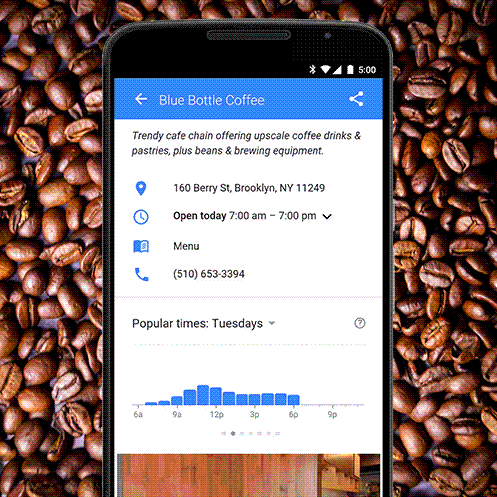 Here is an FAQ that I received from Google about the feature
Q: Is this available Internationally?
A: Yes; this will be available in all locales.
Q: Will this feature be available for all mobile carriers?
A: Yes, this feature is available for all mobile phones with an internet connection on modern mobile browsers and Android GSA, regardless of carrier.
Q: When will this feature be available in the Google App on iOS?
A: As of now, this feature is available on Android devices and a number of browsers, including Safari and Chrome.
Q: What types of features are associated with this launch?
A: This launch lets users see historical trends of how busy a place gets throughout the week.
Q: Where does Google get this data from?
A: The information is based on anonymized and aggregated visits to places from Google users who have opted-in to storing location data.
Q: Is Google tracking my location and saving it for this feature?
A: No. The information is completely anonymous and users must opt-in to store location data.
Q: What can businesses do if they don't want the busyness data to show for their business?
A: We do not offer a way for businesses to remove this information. We believe this information is valuable for customers in deciding when and where to go.
Q: What types of places will this information show for?
A: This information shows for places where users are commonly worried about how busy it typically gets. Data will show up for locations with regular foot traffic and a local listing on Google Maps.
Since Google's patent on using driving directions as a ranking factor, we have known that Google had the ability to track the times that a given business was popular. It is not clear that driving directions are the main metric used in this feature but it seems likely to me that it is a potential source. With mobile Google can obviously now learn not just whether driving directions have been requested for a given location but whether they have been used.
Google also has the ability to understand a users location via their mobile device and use that information to better understand commercial space. Another likely source for the information. They have access to a ton of related information via Android Pay, Google Wallet, browser histories etc that they could use to refine and check their data.
Now that they have started to surface this data, it will be interesting to see if it is used in ranking or allowing Google to change ranking during certain times of the day.
On Twitter, AJ Ginrich suggested a creative use of this data: Spy on your competitor & run ads at the right time!
It is rolling out now on mobile although I have been unable to bring it up on any of my browser/phone combos as of yet.