Understanding Google My Business & Local Search
Google Finally Announces Use of Google Local Reviews in Adwords
Google has finally acknowledged publicly that they were now adding Google Local reviews to Adword ads that use Location Extensions. These were seen in the wild starting several weeks ago.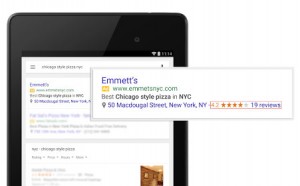 These reviews can be seen instead of seller ratings from 3rd party sites. Previously it was only possible to get Google Local review stars if you were using AdWords Express. Typically they would show if you had at least 3.5 stars and some minimum number of reviews. In the case of seller ratings that number is 30, I am not sure how many are required to show the Google Local review in Adwords.
Here is the Google Adwords post:
Location extensions can now show ratings from local Google My Business listings

Last year we made it easier to manage location extensions by automatically linking your Google My Business location information to your AdWords accounts (http://goo.gl/e8Mnby). Starting today, ratings from your Google My Business listings are eligible to appear in ads with location extensions enabled on desktop and tablet. People increasingly rely on the opinions and experiences of others to help make decisions like which pizza parlor to visit, where to get your tires rotated or which dentist to make an appointment with. Local ratings make your ads more useful to consumers searching for local information, and can improve your ad performance. To showcase your Google My Business reviews in your ads, make sure to have location extensions enabled in your account. Learn more (https://goo.gl/zuUWZt)
Here is an example of an Adwords Ad showing on a branded search for a competitor. According to Dave Oremland, the ad placed for Professional Bartending School, has seen increased CTR in general. Showing up against a competitor might not deliver lots of click throughs but it sure is visually impactful: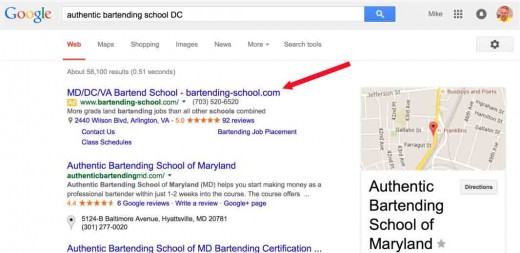 Full disclosure: I am principal in GetFiveStars.com, a product designed to help location based businesses understand their quality performance and earn more reviews.