Understanding Google My Business & Local Search
Local U Advanced Training Minneapolis – June 27th – Ticket Price Increases 6/1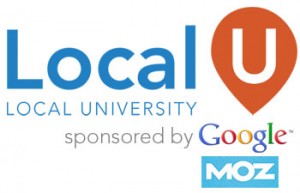 Local U Advanced Training is coming to Minneapolis this June 27th. Scheduled the day after the MNSearch Summit so you can attend both, it promises to be a great event.
Duane Forrester from Bing  and Jade Wang of Google will both be at Local U as will Darren Shaw of Whitespark, Mary Bowling, Aaron Weiche, Dana DiTomaso and myself. The day is structured to provide a deep dive into the skills necessary for an agency to execute a local search campaign with lots of time for questions and answers.
The event is limited to only 60 attendees and we have already sold half of the tickets. The advanced purchase pricing for Local U Advanced is $799 (forum members save an additional $100) by itself and $1039 with a ticket to MNSearch. Bring your whole staff with our 5-pack for only $3500 (goes to $4000 on 6/1).
The price includes a meet & greet before and after the event and enough food to keep you fat and happy for the day. It will be a small, personalized event where there will be plenty of time to interact with the presenters and each other.
The $799 advanced purchase pricing ends on the first of June l so you want to sign up now to get the best price.
Here is the full agenda:
Agenda:
Time
Topic
Presenters
8:00-8:30
Registration & Check-in
8:30-8:45
Kickoff and Conference Introduction
Aaron Weiche
Spyder Trap
A few very brief housekeeping items before we dive headfirst into a full day of Local Search presentations and discussions!
8:45-9:15
Keynote: How the Search Engines Think About Local
Duane Forrester
Bing
Learn what the world is in the eyes of a search engine from veteran Duane Forrester. He'll discuss how the search engines think about local search and maps, how that thinking evolved over time and why. He'll also share his insight on successful local marketing via Bing Places for Business.
9:15-9:40
Understanding Local Search
Mike Blumenthal
Get Five Stars
Mike will take you through all the must-know basics of Local to get the day going, including types of Local results, the concept of location prominence and the factors involved in ranking, and how to prepare your company (or your clients) for an increasingly mobile future.
9:40-10:10
Local Keyword Research & On Page Optimization
Mary Bowling
Ignitor Digital
Many of you are probably well-versed in keyword research for traditional organic search. But local keyword data is often difficult to find and analyze, and there are some additional criteria to consider when looking at your ranking opportunities. Mary will take you through her process for deciding which terms to target with your Local SEO campaign and how to prioritize them and how to use them on your website.
10:10-10:30
Local Landing Pages – What Really Works
Dana DiTomaso
Kick Point
Dana  then follows up with her insights for the ideal local landing page and discusses how to make sure that page is optimized for both mobile visitors and conversions.
10:30-10:50
BREAK  
10:50-11:20
Keynote: Having Success with Google My Business
Jade Wang
Google
Learn about the new Google My Business and some of the latest feature releases to help your business take ownership of its local presence. Google will address some of the most common issues from their support forums, take your questions on how to make the most of My Business and explain how to get help with your local listings when you need it.
11:20-11:50
Mobile SEO and Usability
Aaron Weiche
Spyder Trap
Being mobile-friendly is no longer an option. It's a must. Learn what the Search Engines and users want and need from their mobile experiences with your website and how to give it to them.
11:50-12:30
End-to-End Citation Discovery and Management
Darren Shaw
Whitespark
Darren will help you sort out a frequently messy Local Search Ecosystem by taking control of your company's (or clients') baseline location information, identifying and cleaning up duplicate and out-of-date listings, and proactively seeking out difference-making citations specific to your niche.
12:30-1:00
Morning Q&A
All Panelists
Get answers to your questions from the morning sessions!
1:00-2:00
LUNCH: BIRDS OF A FEATHER ROUNDTABLES
We'll bring our lunches back to the seminar room, where you'll have the ability to self-select among  tables hosted by Local U faculty to help you troubleshoot and get advice on your most pressing local search issues. You'll also get a chance to talk and problem-solve with a rep from Google My Business.
2:00-2:30
Link and Brand Building for Local Search
Mary Bowling
Ignitor Digital
Mary Bowling gives you a better understanding of how local links help you build your brand, increase business from your own community and provides specific tactics to use in gaining quality links for your website.
2:30-3:00
How to Get More Good Reviews – Even in Tough Niches
Mike Blumenthal
Get Five Stars
On the social web, reviews have become increasingly important. Developing a process for garnering real reviews is critically important for any local business. Mike Blumenthal will explore ways to make reviews work for everyone.
3:00-3:30
At the Intersection of Local and Social
Dana DiTomaso
Kick Point
Social media can be a great source of new leads and repeat customers for local businesses, but how do you decide which platforms to concentrate on when resources are limited? Learn how to help businesses determine the social platforms, strategies and tactics that hold the most potential for them.
3:30-3:50
BREAK  
3:50-4:20
Learning from Your Local Competition
Darren Shaw
Whitespark
With Google obfuscating more and more data, it's getting harder for marketers to research all of the factors above that lead to higher rankings. Darren will take you through his process for identifying top competitors in a given market, and how to leverage THEIR tactics to your own advantage.
4:20-4:50
Local Agency Processes and Reporting
Aaron Weiche
Dana DiTomaso
James Svoboda
Darren Shaw
Aaron Weiche moderates a panel with the principals of three leading local agencies in a panel discussion of how they serve their clients, what they've found works and what doesn't, how they do reporting, how they've adapted to the Pigeon update and more.
4:50-5:30
Putting It All Together
All Speakers
Our speakers from the entire day summarize the key points of their presentations and leave you with their step-by-step process for a holistic local search campaign. This timeslot will also feature tons of Q&A.