Understanding Google My Business & Local Search
Google Plus Rolls Out 'Collections' Feature

Rumored for the past several weeks, Google+ has just rolled out a new Google Plus feature – Connections, a feature that allows a G+ persona or page to curate G+ posts into targeted & topical sets. Collections is available on Android and the web, and iOS is coming later. For Android users, make sure to update your Google+ app to get access to Collections.
It is, for regular G+ posters, a useful feature that allows for sub categorization of groups of posts so that any posts can be more easily found in the future. It adds an organizational structure to G+ that was not really available with circles. Here are several collections that I have created 6 collections of my postings there:
Google My Business – Tips & Tools
Local Search – tips, tactics and news
Scenes of Rural New York – Barns, Nature and More
Reviews & Reputation for the SMB
Apple & Local Search
Mobile Local Search
Will I benefit from this new feature? Will I gain new followers or increased front page exposure in the main SERPS? Like so much of what has happened on G+,  it depends on whether Google puts some oomph into the marketing and exposure. And whether they make ranking of these Collections somewhat more transparent.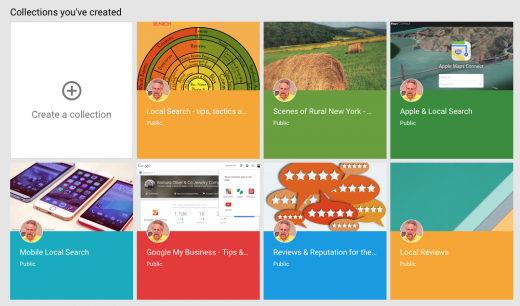 If new readers of G+ are readily shown this curated content it might make them more likely to stay in G+ and create an interest based stream that is topically driven and doesn't require them to know which individuals are prominent in those fields. A user can follow a specific Collection for example and not see all the content of a given persona. It could (operative word could) improve the newbie experience and lead to user growth. Google has yet to impress me with their capacity in this regard.
On this front Google will be offering "Featured Collections" but their success is totally dependent on Google's positioning and marketing of them. Although the varied crowd of testers has created an interesting array of first efforts on this front.

What will Google gain from this update?
Minimally they will be sending the signal that the social stream of G+ is alive and kicking and has some interesting features. Hopefully there will be more developments at the I/O conference in this vein.
More importantly, if these Collections gain traction, Google will be gaining an incredible crowd sourced tool defining relationships between various entities in the real world. Obviously, with Knowledge Graph & Hummingbird  Google is placing increased emphasis on understanding real world relationships and their graphs.
Yesterday Bill Slawski published a patent review titled How Google is focusing upon Building and Promoting Entity Collections looks at just this issue.
…Determining the first set of entities may include selecting a category from a crowd-sourced document corpus and determining entities identified by the category.
From Bill's article: The patent does describe how information about entities may exist in the web in the form of triples, how those are searchable, and can be used to identify whether or not an entity is the member of a team or a political activist group or a world leader group, and how different collections may be ranked based upon things like how notable their members are.
Would I rush out and create a Collection? Do they have value in Local?
I could envision a local business creating some meaningful local Collections that, if they showed in local SERPS, could help that business get and keep local followers while providing them with significant first page exposure. But the actual value of this tool is TBD. If it is stuck within the walls of Plus it will be of some limited interest but not hit escape velocity at least in Local.
My bottomline? It is not a feature to go gaga over nor it is one that can be heavily criticized. It's an appealing feature for heavy G+ users now and it could be more generally useful and increase the overall value of G+ if Google markets it correctly. But that remains to be seen.
Some other useful posts about Collections:
10 suggestions for Collections you can create
Some interesting looking collections:
Local SEO Resources: The Ultimate List Joy Hawkins
Hangouts Tips & Updates Pegggy K
Google+ Tips & Advice Jaana Nyström