Understanding Google My Business & Local Search
Is the Snak Pak the Future of Mobile Local Packs?
I have been watching mobile Local Pack results for the past several weeks. This Guide to Google Mobile Local Pack Results catalogued what I was seeing across iPhone results as of several weeks ago. I am now seeing indications that the Local Stack, which requires an additional click to get to the business information, may be heading our way more broadly.
Last week, the Local Stack (aka Snak Pak) was, like the desktop version, only showing on entertainment, recreation, travel and food searches in all browsers and apps where I looked. Now I am seeing it for general search results in Google Now.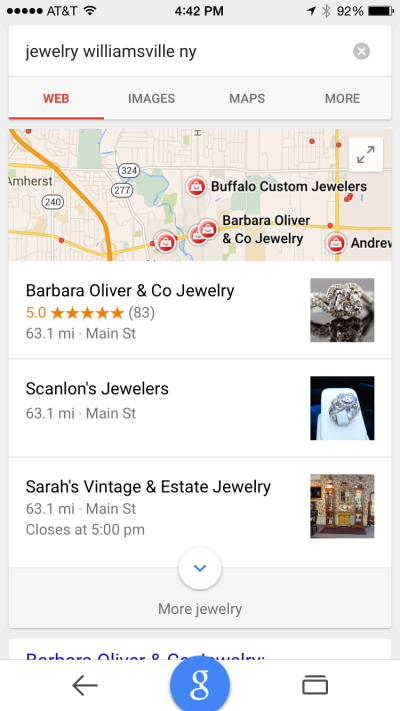 To some extent, mobile Local results are flying below the radar. And as I pointed out over the weekend, they vary a lot by device. But it seems that Google is on a path going with these local results from the classic pack with direct call, directions and web links to a more limited pack with just call links and now the Local Stack requiring a user to click in for even the least bit of information.
I am sure that Google would argue that its for the users benefit. Hard for me to see how hiding critical information like calling and driving directions is helping users.
Here is the fairly quick evolution we are seeing:


These screen shots were taken with different browsers and there is no guarantee that they will coalesce around the one with the least information. But given that this update like the previous update showed up first in Google Now that seems to me the likely direction.