Understanding Google My Business & Local Search
The Annual Print Yellow Pages Page Count And Other Anomalies
It is that time of year when I usually am beating a dead horse or three. With the arrival of my annual SuperPages Yellow Page Book(let?) I gleefully get out my ruler, Excel and last year's book to see whether I can once again make fun of lament the decline of the one of Local's historic marketing franchises, the print Yellow Pages.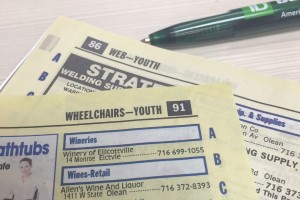 Shock of shocker though when I realized that this year's book actually showed an increase in total page count for the first time since I started on this masochistic documentarian exercise. Last year I did note that the rate of decline had slowed. For the 2015-16 book there has actually been a 6% increase in page count from 86 to 91 pages in my local book.
I studied the book to make sure that they weren't just fluffing the book with filler ads for appearances sake and it does seem that there has been an actual increase in the size (and perhaps the count) of the display ads. While it seemed on casual observation that the truly local ads had often decreased in size there were a number of new, national ads.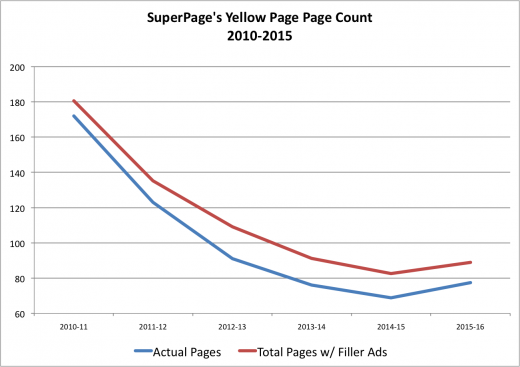 In a book of so few pages it would only take a few additional ads to lead to this page count increase and obviously my sample size (~n=1) is on the small size. Thus it is hard to know whether the page count in one book in rural upstate NY reflects a larger national trend or is a statistical outlier.
It could be the result of a single more aggressive sales person, it could be that they got tired of me making fun of them and put a push on this edition, it could be an outlier and be masking a continued decline.
Or it could, maybe, possibly indicate that the print YellowPages have stabilized for a while. That really is the best that the industry can hope for; a stable, predictable (albeit smaller) revenue source that can create enough cash flow for them to fully make a transition to digital realities.
In related local news BA/Kelsey reports that overall radio revenues held steady during 2014. Although even there fragmentation of the radio market is bound to lead to future deterioration.