Understanding Google My Business & Local Search
Getting Yelp Reviews When All Else Fails
It's hard getting any review but it's particularly hard getting Yelp reviews. They filter many, many more than make it through. I have seen filtering rates as hight as 85% of first time reviewers. Unless the reviewer has either lots of Yelp friends or lots of Yelp reviews, their reviews will be nuked.
Yelp, of course doesn't want you asking for reviews. That is, to some extent, craziness on the part of Yelp and you are going to ask anyway. (As a note it's not against their TOS, it's just a "recommendation" that you not ask for reviews.)
So what do you do if you absolutely, unequivocally have to get a few reviews at Yelp? Laser sharp targeting of who you ask.
There is no sense asking 100 people if there isn't a snow ball's chance in hell of any of their reviews showing. Time waster for you and your client. And wasting client time is something you should not be doing.
Only ask your customers that you know have at least 10 or more reviews already on Yelp and/or lots of friends.
Yelp makes finding which of your "friends" have enough reviews or social strength easier than you think. If you have been using your personal Facebook account for interacting with your buisness clients or you have most of you clients in a major online mail service (Gmail, Yahoo, Outlook) here are the steps:
1- Login into you Yelp personal accounts.
2- Click on the Find Friends link on Yelp
3- Start with your Facebook friends and identify any that meet the minimum requirements for total reviews or friends. Reach out to them and ask for a Yelp review. I am sure that David Mihm and Bill Slawski would do me the kindness.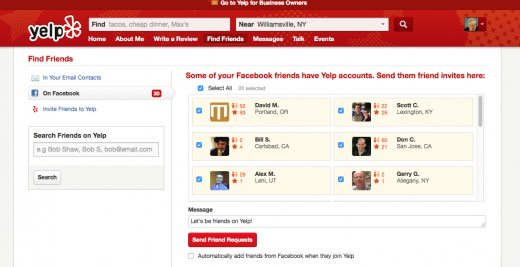 4. Once you have exhausted your Facebook friends, upload your Gmail (or other) mail contacts and do the same: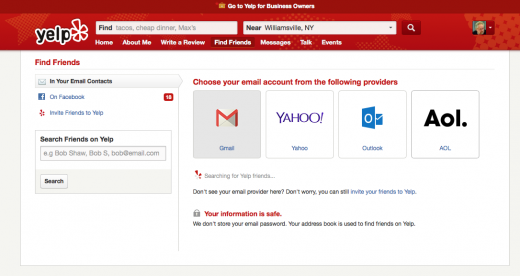 5. Assemble the list of those likely to get reviews approved and reach out to them via email or Facebook. And I can't see any reason to friend them.
6. You probably SHOULDN'T do the following but the irony of using Yelp's very own friending mechanism to ask for a review was too rich  not to mention. If you can't reach them via email or Facebook then the following is a good backup: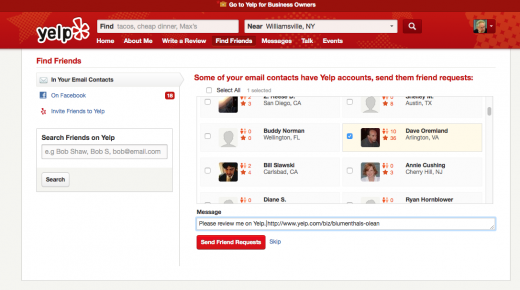 Here is the email that your friend will see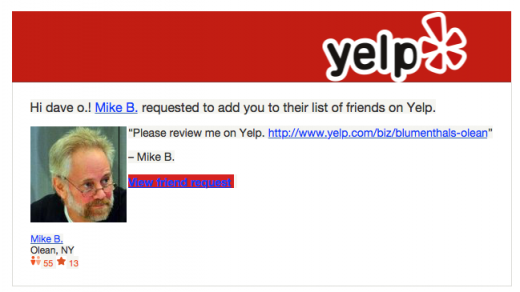 I would love to hear from you if you have been successful getting Yelp reviews this way.
This tip was shared at the recent LocalUp.