Understanding Google My Business & Local Search
Google Replacing City Experts with Local Guides Program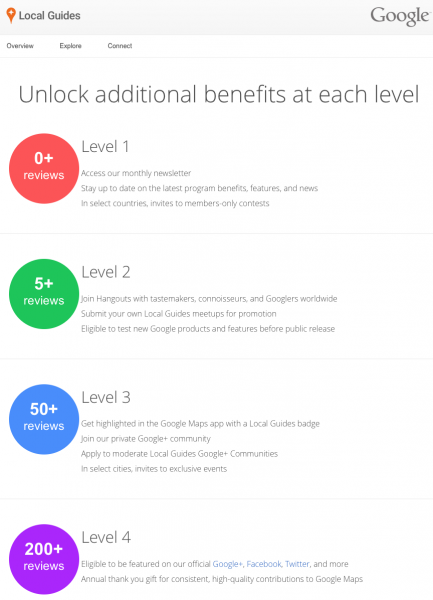 Google announced today that as of February 16, the City Experts program that encouraged G+ users to become active reviewers will be upgraded and now called Local Guides.
The new Local Guides program implements a multi level approach with benefits accruing based on the total number of reviews written. There is even a code of conduct and a more formalized benefits structure.
The new benefits structure attempts to reward users that are outside the cities where City Experts has been active and to create some level of incentives around writing more reviews. In that regard it is similar to how Google handles contributors in the forum and the progression from entry level to top contributor.
Here is the email announcing the updated program and my standing in the new program:
Welcome to Local Guides
Today we're happy to introduce an exciting update for our community of reviewers. City Experts is now Local Guides, available to people everywhere.
Local Guides is a community of explorers who write reviews of places on Google. When you write local reviews, you help others feel at home in the world, anywhere they go.
Be sure to read the Local Guides Program Rules that go into effect on February 16, 2015. If you decide they are not for you, you can opt-out at any time.
Starting now, because you've written between 50 and 199 reviews, you'll begin as a Level 3 Local Guide. You can access all the benefits available at Levels 1-2, including applying to become a Trusted Tester of Google products and features before public release. Plus, you've unlocked additional benefits available to Level 3 Local Guides:
Get highlighted in the Google Maps app with a Local Guides badge
Join our private Google+ community
In select cities, get invites to exclusive events
Apply to moderate Local Guides Google+ Communities
Write reviews to become a Level 4 Local Guide and unlock even more benefits.
Thanks for being a part of our community.

Apply now