Understanding Google My Business & Local Search
Some Thoughts On the New Pak Results from Google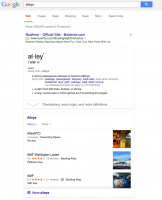 Some thoughts & observations on the new [Hamburger] Pak from Google which for now, like the Carousel, is US only.
1-The local carousel is still in use and shows when you select a result delivered by "People also search for" in a 7-pack result. Will we soon see its demise as well? Currently Google shows five competitors, not three, below the brand Knowledge Graph. Not sure how that would work with the new [Hamburger] Pak.
2-Obviously that question raises the related question of whether the traditional 3/7 Pack is on the future chopping block as well. The new Pak targets the same leisure and entertainment activities as the carousel; music, hotels, restaurants etc. These "do and see" experiences are both more popular in local search and likely to be more profitable to Google than the results returned with "traditional" Pack results. The Local carousel, introduced in June, 2013, had a time to death of little more than 16 months. And since its inception there has been the general belief that the traditional pack would be replaced. I guess it will, someday. Or not.
3-The new Pak is consistent with both Google's material design language and mobile first approach. The design even lifts the hamburger menu icon from the mobile design arena.
4-Like the carousel before it, there is no phone #, address or map associated with the display of the listing in the [Hamburger] Pak. To see those things it is necessary to click through to the Knowledge Panel. And if you want to see the details of another listing it is necessary to go back out and then in again. This is one of the worst local users experiences that Google has rolled out to the desktop in a long time. It really should not be that difficult to ferret out a phone number or see comprehensive information for a list of results.
5-This contrasts to the mobile experience. Once you choose Map view on a phone, and view any given equivalent of the Knowledge Panel display, you can swipe forward and backward to easily move through the full details of any single listing. It still makes the phone number too many steps away. What is mobile all about if not clicking to call?
6-One of the biggest changes from my POV is the loss of diversity in the display. The carousel, even though it was ranked, showed no obvious rank in its horizontal display and essentially made position 5 as valuable & visible as position 1. It was relatively easy to scroll to see spots 10-20. This display picks 3 winners and makes those in position 4-10 significantly less visible.
7-In about 3-4% of keyword searches where one would predict that the new [Hamburger] Pak would show, Google showed a branded One or three Pack instead. Obviously the brand predilection of Hummingbird and Pigeon is still in play and is no way affected by this.
8-On "average" screen sizes on the desktop, there is little else that can be seen besides ads and the new Pak. Thus in many search results that return a new Pak, only 3 listings are returned. If there are two ads at the top then only 2 results are visible above the fold.
9-I would love to hear what happens to web traffic for the directory type sites that seemed to be doing well when shown below the Carousel. Clearly this was prime space for TripAdvisor, Yelp etc and this can not have been good for their traffic. In unpublished user research that I did, a number of users would flat out ignore the carousel and move right to a branded website like TA or Yelp. I doubt that behavior persists with this display.
10-Interestingly even though the new [Hamburger] Pak almost always returns at the first position after the ads, it doesn't always do so. In the searches done so far that trigger the new Pak, it shows at position two, following either images, an answer box or  a web result with site links  about 4% of the time with no geo modified queries (2% of overall queries). The non geo modified queries are obviously more ambiguous than the geo-modified ones and it makes sense that Google might slot something above the Pak. .While is hard and rare, it does seem possible to "dislodge" the new Pak. Images, answer boxes, really strong web site and, of course, branded results all do so.