Understanding Google My Business & Local Search
Google Now Displaying Full Review Snippets in the Knowledge Panel
Off and on for the past few months Google has been showing reviews in the Knowledge panel for local searches. James Gibbons pointed out today that he was now seeing them more regularly. I would have to agree. This may be a more extensive test or it may be the new normal but many (not all) local listings with reviews are showing the snippets.
Interestingly while the specific review snippet comes from a single review, there are bolded/highlighted elements of the snippet that come from several reviews and the number is noted to the right. These highlighted snippets may or may not match the review summary snippets that are shown at the top of the about page.
They are, though, based on a principal word that repeats throughout the reviews. These bolded snippets are much more impactful when presented in the context of a full sentence. If the reviewer has a profile photo that will show as well. These photos add to a compelling presentation.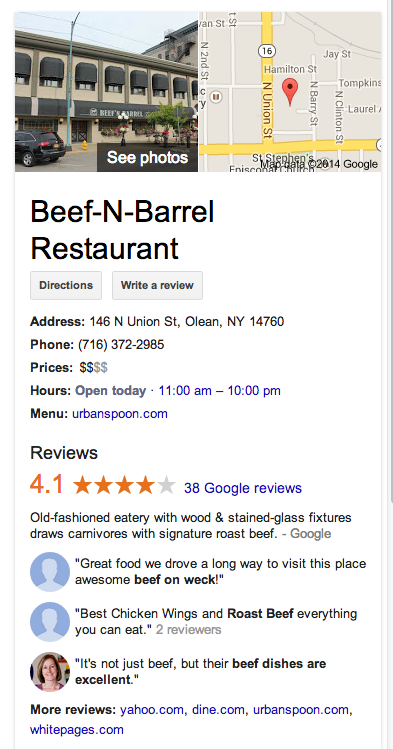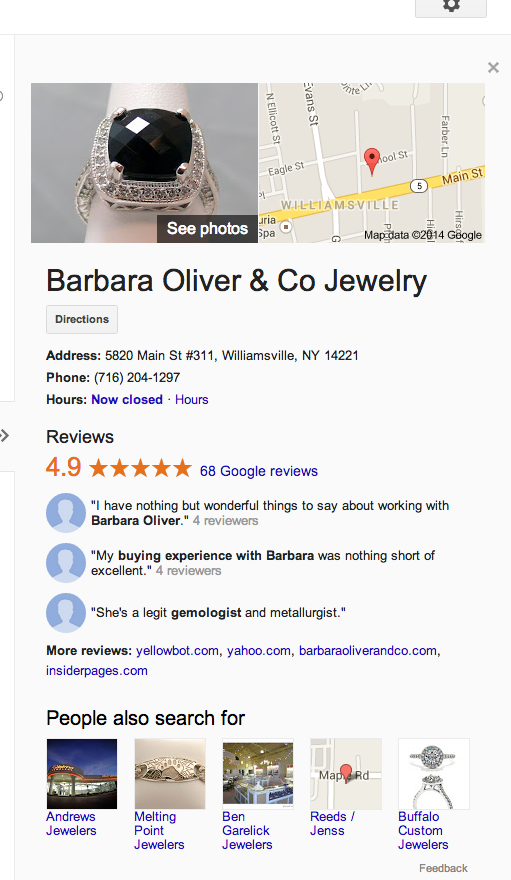 It is not exactly clear why some listings show the reviews and others do not. (Note:These do not seem to showing on any searches in Europe, Canada or Australia yet.) For example both of these restaurants have 9 reviews. And both have 4 or 5 reviews done by users with G+ profiles. Yet one shows and one doesn't. For reviews to show they need to have been created in G+ but that isn't the only factor. It might be how current the reviews are as Tasta Pizza has had a review within the last month while the most recent for Angee's is 8 months ago. Also note that in the example below, Google is only showing two review snippets not three as is typical. Another question to be answered.  If you have a theory why let me know.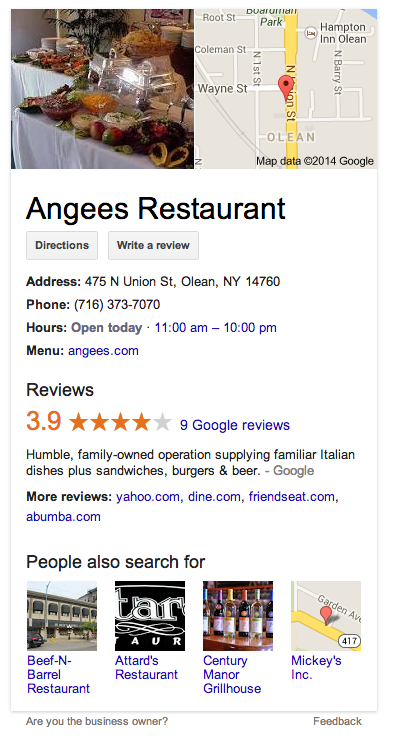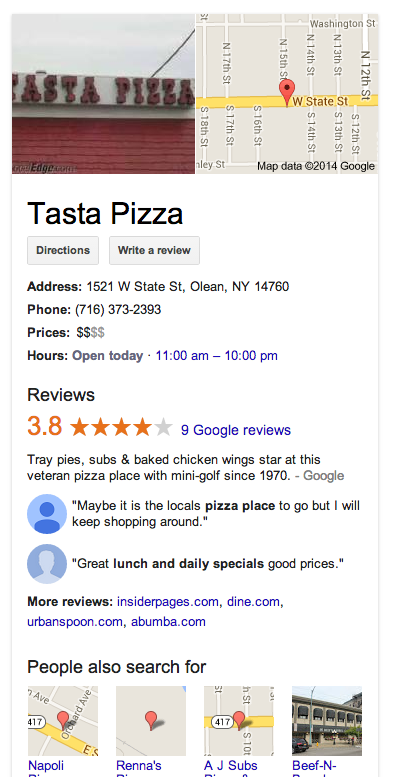 In related news, Google has announced that they will be removing all anonymous Zagat reviews from their products. This will result in a reduction of review count, and possibly a change of rating for those businesses (mostly restaurants) that had Zagat reviews.
Here is the announcement:
To show a consistent reviews experience to our users, reviews that are labeled by "A Zagat User" are being removed from Google products. Reviews from Google users will still appear as usual, and users can still contribute reviews. This may affect the overall rating for some businesses.
As an addendum and minor note; a brand search that is showing a recent G+ post will only display two reviews plus the post instead of three reviews.