Understanding Google My Business & Local Search
Google Upgrades Bulk Upload Again
Update: Google has confirmed that the new bulk upload uses the same "one claim rule" as the new Places Dashboard and Plus. This means that once an account has been upgraded that the listings will not be able to be claimed into either Google Plus/Places Dashboard or another bulk account (at least not one that has been upgraded). This is one more step in making bulk listings more secure than in the past..
Google recently added new features to the bulk upload (week before last) and they are announcing another set of new features today. Hat tip to Linda Buquet for spotting and Max Minzer for pointing out.
Google Jade posted the following in the forums:
We are rolling out new features for the bulk location management tool in the coming weeks to make your experience even better.  We're upgrading accounts gradually, and once your account is upgraded, these features will be available. Please be patient if you don't see these features right away.
Please see the attached screenshot for an example of what your will look like if you've got the new features.
The current set of new features include:
Status of your locations on Maps: Now, we'll show you a column that describes the status of each location on Maps. You'll be able to tell at a glance which locations are live, unverified, have errors or data conflicts, are duplicates, or are pending review.
Updated data conflicts interface: The updated interface will show you details on how a location page might differ on Maps/Search results versus what's in your dashboard. We'll show you what is live on Google, and which field is different from what's in your dashboard. From there, you'll be able to take action.
Improved edit timeframe: We're working on improving the speed with which your data goes live on Google.
Learn more about changes to bulk management.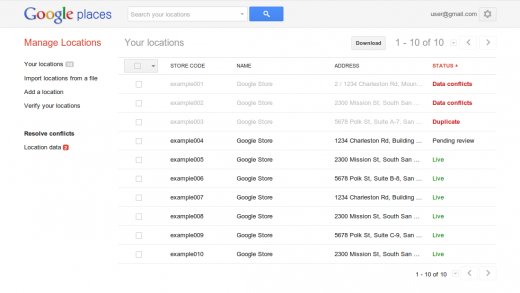 The rapid changes to the bulk feature are a good sign that Google is actively rolling out upgrades. The increased feedback about duplicates and data consistency will be very helpful to those managing a large number of listings. In the past, you never knew from the dashboard what the real status of a given listing was and you had to go into Maps and individually check them out. A real pain and it meant that listings that you thought were active were in reality, not.
But the faster edit timeframe is a critical upgrade. The bulk tool most likely now uses the same faster pipelines that are used by Plus, the new Places Dashboard and Mapmaker and it means that results should go live very quickly. One presumes that many of the changes will go live within hours if not minutes although some are likely to take longer. This is a necessary step before the bulk listings can be moved fully over to Plus. Who knows when but at least it is now possible as all of the primary input interfaces are accessing the same architecture.
It also raises the question of whether these listings are now falling under the claim once rule of the new Places dashboard or still are governed by the claim many times possible in the old dashboard. If the former, security of a listing will be improved. I have asked Google to clarify.