Understanding Google My Business & Local Search
Reputation Management Dilemma – The Review From Hell
This post recently showed up in the forums:
Link to your local Google+ page
Business name (as it is in your account): Bakersfield Funeral Home
Business location: 3121 19th Street, Bakersfield, CA 93301, USA
Business telephone: 661-871-8080
Business category: Funeral Home
Website: www.bakersfieldfuneral.com
An ex employee is trying to hurt the business after being fired for unprofessional misconduct. They made a fake google account and posted an abusive comment on our google listing and Google+ business page. Can you remove the comment and block his IP address from posting on our listing and Google+?
I followed the link to the local page and found this devastating (and only) review: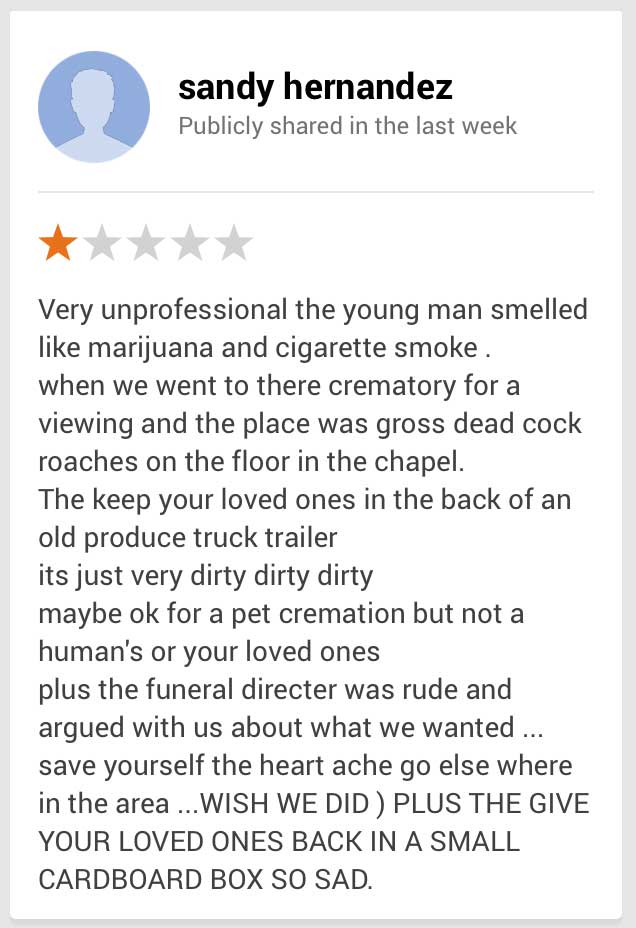 He is in the funeral business so the obvious advice of asking your clients for additional reviews seems to be (wildly) inappropriate. "Gee I know that your loved one just died but if you were happy with the funeral would you mind leaving us a review?" or "Rate your funeral on a scale of one to ten, ten meaning you are willing to leave us a review."  A clear non starter.
The only idea that struck me as reasonable was to encourage the businesses he does business with to add reviews from the G+ Pages per this David Mihm suggestion.
As Miriam Ellis noted to me in an email: Okay – that is truly terrible! Kind of made me wonder, if this is an ex-employee, if they actually made all of these details up or if any of it was true. 
Which is exactly the problem with this sort of review (assuming it is by an employee). It leaves the impression that it could possibly be true which really complicates the matter. Because of the way it was written it is very unlikely (although possible) that it would be removed by Google. If it is a fake employee review then the ex-employee really knew how to write it in a way that would be convincing.
Let's assume that it is an employee. And that it is untrue.
What would you would suggest?
Is there a possible response that can be crafted to the review? What would it be?
Is this the rare time that legal action might be recommended?