Understanding Google My Business & Local Search
Yelp's 2013 Results and the Headlines that Weren't
Yelp announced their 2013 "earnings" last week. I am continually shocked by the rosy headlines and the lack of due diligence often present in the reporting.
Some of the more egregious examples of uncritical coverage:
Some were more neutral but still carried an uncritical tone or hints of positive results.
Few if any of the headlines that I found were critical with but one exception.
Here is a chart showing Yelps Revenue Growth compared to Expenses over the past 5 years. I am having trouble seeing a reason for optimism. This has been the same story for many years. See for yourself.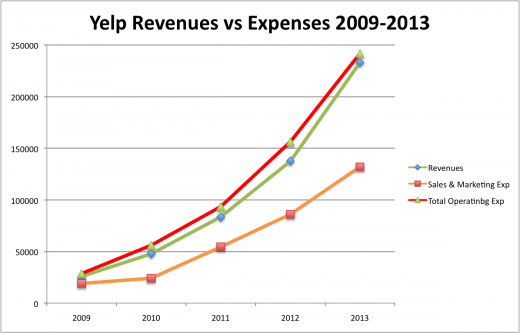 I would suggest that the headlines should have been:
Yelp Reports 5th Consecutive Annual Loss
Yelp reports 20th Sequential Unprofitable Quarter
Yelp, No Profits in Sight as Expenses Rise as Quickly as Income
I think they all must have failed to read Yelp's forward looking statement buried at the bottom (embarrassingly formatted exactly as on the report).

Factors that could cause or contribute to such differences include, but are not limited to: the Company's short operating history in an evolving industry; the Company's ability to generate sufficient revenue to achieve or maintain profitability, particularly in light of its significant ongoing sales and marketing expenses; the Company's ability to successfully manage acquisitions of new businesses, solutions or technologies, including Qype and SeatMe, and to integrate those businesses, solutions or technologies; the Company's reliance on traffic to its website from search engines like Google, Bing and Yahoo!; the Company's ability to generate and maintain sufficient high quality content from its users; maintaining a strong brand and managing negative publicity that may arise; maintaining and expanding the Company's base of advertisers; changes in political, business and economic conditions, including any European or general economic downturn or crisis and any conditions that affect ecommerce growth; fluctuations in foreign currency exchange rates; the Company's ability to deal with the increasingly competitive local search environment; the Company's need and ability to manage other regulatory, tax and litigation risks as its services are offered in more jurisdictions and applicable laws become more restrictive; the competitive and regulatory environment while the Company continues to expand geographically and introduce new products and as new laws and regulations related to Internet companies come into effect; the Company's ability to timely upgrade and develop its systems, infrastructure and customer service capabilities.