Understanding Google My Business & Local Search
Google Reviews – New Quirks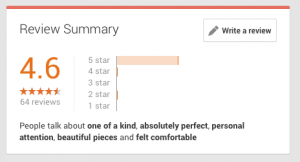 Last week, with the rollout of the Places Review Monitoring system, we started to see some quirks in review count difference between the monitoring dashboard and the + Page.
Subsequently business owners, like Barbara Oliver, reported review count declines on their + Page and in the main search results. Barbara's reviews went from 65 to 58 and then back up to 62 and today returned to 64. It has happened so frequently it has stopped being newsworthy.
However a new anomaly has been reported both in the forums and on G+ where the rating averages have dropped despite having nearly all 5 stars reviews and are different between the monitoring system and the + Page. Barbara's rating dropped from 4.9 to 4.6.
Google does sometimes (arbitrarily?) knick your review rating so that the math doesn't always add up but these reports do seem different.
We calculate an overall rating based on user ratings and a variety of other signals to ensure that the overall score best reflects the quality of the establishment. 
It's often difficult to know whether these changes are just temporary bugs or reflect some new normal. Given the recent rollout of the monitoring system, my money is on the former but the spread is small.