Understanding Google My Business & Local Search
Google MapMaker Going Offline for Upgrades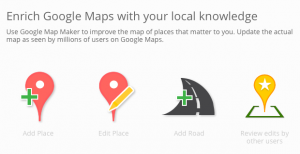 This was posted in the MapMaker (thanks to TC Treebles for the heads up) forums this afternoon. It is highly unusual for Google to take a product offline, even if temporarily, ever. The idea of getting rid of whacked out bots and having a single, authoritative single repository for all location data is significant.
Planned Map Maker Outage, beginning Nov 20, 2013
Hi Mappers,
One of the great things about Google Map Maker is the fact that the wonderful contributions you make go to all of Google's products, including Google Maps, Google Earth, and Google Maps for Mobile. In order to strengthen the link between Map Maker and these other products, we are making some behind-the scenes improvements to ensure your mapping contributions reach all associated Google products as efficiently and reliably as possible. These changes will also result in a single repository to hold all Maps data, and let us get rid of Google Automated Syncer bots and related issues.
Within the next day, Map Maker will undergo a planned outage, lasting a few days, to make these changes. During this time, we will be unable to accept edits or reviews of edits on Map Maker. You will still be able to use Google Maps to report a problem or fix the map. We apologize in advance for any inconvenience this may cause and will post again when we begin the outage.
Thank you for your understanding,
Pavithra Kanakarajan and Anand Srinivasan
Map Maker Product Manager, Map Maker Tech Lead