Understanding Google My Business & Local Search
How Does Google Choose a Profile Photo? It's the Algo Dummie!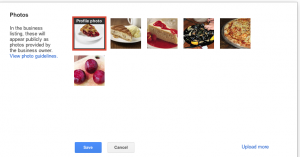 There has been some conversation and consternation (free membership required) of late when Google seemingly arbitrarily replaces a business owner selected profile photo in the main search results knowledge panel or carousel with a different photo perhaps provided by a third party. Like all things in local its not random. It's the algo. And like all things in local, you, as the business owner, are only able to suggest but not control what is displayed.
Choice of the profile photo,  like everything Google does, is not dictated by random chance but by an algo. Their image processing algos have gotten very sophisticated and they are implemented in this situation to show the images on the front page that Google prefers and that they think provide the "best customer experience".
We do not know much about this selection algo yet but we do know a few things about how the image is selected.
Preference appears to be given to the listing owner, Trusted Professionals, 3rd party photos in that order.
If the Listing owner has selected a photo via the setting "profile photo" in the dashboard Google will generally use that UNLESS it doesn't like the photo for reasons defined by the logic of the algo.
One known and lightly documented "dislike" is logos. Google seems to think that logos do not offer a good user experience on their front page and frequently will choose something else if a logo is identified as the "profile photo". You can read Jade's comment about logos here. This predilection was confirmed in other conversations at LocalU in NY.
But anecdotal experience would indicate that the preferences of the algo goes beyond just nixing logos. For example Google seems to prefer exterior shots (this makes some sense since they are coming from a mapping background). See this search: restaurants utica ny. Perhaps exterior photos are the only ones Google can find but I have seen this in other searches as well.
My suggestion for being sure that your photos are the ones used? Provide high quality images with a range of internal AND external shots of your business.  Include both people and product shots. Pick the one you prefer (not the logo) as the profile photo and hope that Google respects your choice.
As a side note, all bets are off with the old dashboard.
Besides deep sixing logos have you seen any other signals that would provide clues to Google's image preferences in the local search results?