Understanding Google My Business & Local Search
Hummingbird, Local Knowledge Graph & Shitty Search Results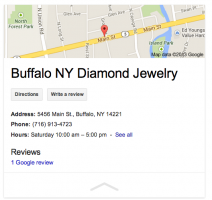 The big news earlier in the week was Google's announcement of the Hummingbird search algo upgrade. InformationWeek noted that "the Hummingbird update expands Google's use of its Knowledge Graph".  Local search results were some of the first entities moved to the Knowledge graph and displayed as knowledge graph results. For me there are thus two questions.
Does Hummingbird affect local search results?
Are there any indications of a decline in local search results quality?
The answer, at least as far as I can tell, to both questions seems to be yes.
According to Danny Sullivan, Google started using this new algo "about a month ago". Moz pegged the rollout at around August 20-22. For the most part this change went unoticed in both local and universal search results. But there was one big change in local that Linda Buquet has covered quite extensively that she first wrote about on August 24th. The timing and results, I think, are not coincidental.
Linda titled this one exactly right: Attack of the Bad Google Local One-Boxes!
What is the attack of the Local One-Boxes? A number of broad head searches like "Buffalo NY Diamonds" or "Denver SEO"  are returning (usually) a single branded, spammy local result. Google seems to have dug into the wayback machine to have pulled out these totally inappropriate results. (Note: as Linda said below it may be necessary to set your location to the same as the geo phrase to see these. That isn't always the case but it increases the likelihood of surfacing them).
Essentially it appears that Google has once again conflated these head terms with what they suppose to be a branded search and have surfaced spammy pinned local results that we thought had long ago been buried. Hummingbird has worked surprisingly well as demonstrated by the lack of complaints. It is interesting that a problem thought solved long ago would trip it up.
For example if you search on the phrase "Buffalo NY Diamonds" it surfaces a second listing for a local jeweler at the same address that was created long ago for the purpose of keyword spamming "marketing" in local. The problem of Google showing a single branded results was first spotted years ago. It subsequently lead to a spate of one box spam and then, for the most part, squelched by Google. For whatever reason, these spammy local knowledge graph entities seem to have made a come back.
The timing and nature of the results makes me believe that we are seeing "the Hummingbird effect".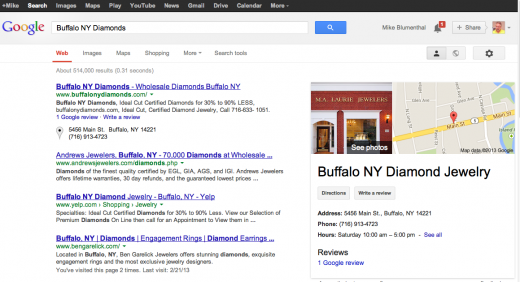 When was the last time that you saw a local result for a spammy local SEO listings? The answer: December, 2009. They seem to have returned.