Understanding Google My Business & Local Search
Google Upgrades New Dashboard with 'Remove This Listing" Option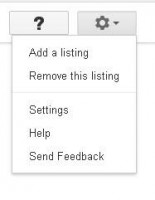 The new Places for Business Dashboard has for the most part been a significant improvement over the old Dashboard in most regards. That being said, it was missing one critical feature: you couldn't remove a listing from the dashboard once you had started the claiming process. That self evident feature has finally be added (just reported by Dan Leibson this via Twitter as well. Google just updated the Places Dashboard post in the forums and the Help Files:
Users of the new Places dashboard can now remove listings from their accounts. Please note, you cannot undo removing a listing from your account.
If your business is closing, make sure you first report it as closed using Report a Problem. If you'd also like to remove the business from displaying in your dashboard, first access the dashboard for the business you wish to remove. Select the Gear icon, then select Remove this listing.
Note that Google may continue to show businesses that have been removed from your account on Google Maps, Search, and other Google properties as closed, moved, or open, depending on the information we've received about the business.
The action removes the listing from the Dashboard in real time with the following message:
Are you sure you want to remove this listing from your account?
Please note:
This action cannot be undone and you will no longer be associated with this listing.
This will stop any campaigns in Google Offers or AdWords Express for this business.
LocalU Marketing Seminars may continue to appear in search results on Google, Google Maps, and Google+ Local. Learn more
You will no longer be able to use this listing with these services: