Understanding Google My Business & Local Search
How Many Reviews to Get the Star Treatment? Somewhere Between 4 and 5
Eagle eyed Phil Rozek of Local Visibility pointed out this example of a business with 4 reviews that is showing the new star treatment in the main search result for jewelry boston:

I thought that  odd as previously it had seemed that 5 reviews was the limit to get the star treatment. Well it is odd. It seems that sometimes it is four reviews and sometimes it is five reviews. Go figure.
Here is a local carousel for a search (restaurants ellicottville, ny) where a listing with 4 reviews doesn't have stars but 5 reviews does:

And another for a search for jewelry orlando which also shows no stars with four reviews and stars with five: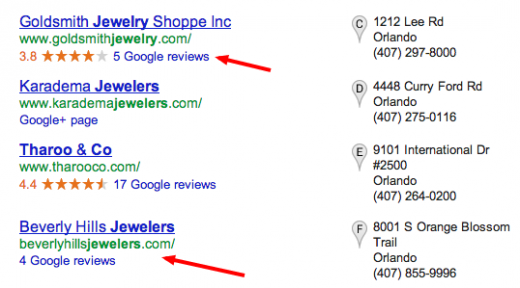 There is some factor that causes Google to consider 4 enough to show the stars. What it is, is not exactly clear. Ideas?