Understanding Google My Business & Local Search
Google + Local Updates
Google has announced in the forum that they have fixed one of the previously noted issues with the new Google Places for Business Dashboard; the speed of photo uploads. In the old Dashboard it might have taken a month or more for photos to show. When the upgraded Dashboard was released last month, it took several weeks. Now apparently, photos uploaded via the new dashboard should appear in several hours. Here is the update from the forum post:
If you're using the new dashboard, your photo uploading experience is now improved. Photos uploaded via the new Place for Business dashboard will now go live in hours in most cases. You can send us feedback about this and other features by clicking on the gear on the right -> Send Feedback. Thanks!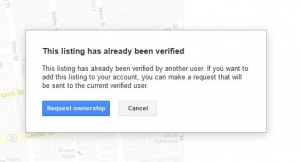 In other news, Josh Volk of LocalSeoUpdate.com notes that Google has implemented the one and only one claimant rule on listings via the new dashboard. If a listing has been previously claimed, it is not possible to reclaim the listing into a new account without Google intervention. If you are unable to contact the previous claimant to remove the listing from their account and if the listing has not been edited over the past year, Google support will immediately approve the new claiming request. If however the listing has been edited within the last year then Google support "will call the business owner to truly verify everything … and can then remove the claim from the other account".
And last but not least, Google has also updated their Data Highlighter and Structured Data tool. This tool allows you to add "rich snippets" without adding any code to your site.
1. Data Highlighter now supports a whole bunch of new schemas: Products, local businesses, articles, software applications, movies, restaurants, and TV episodes.
2. Structured Data Markup Helper Tool: this is a very easy way to get code samples for structured data markup using your own content. Using a process similar to Data Highlighter, you highlight your content and it then generates example HTML you can download and use as a starting point to mark up your content.