Understanding Google My Business & Local Search
Google Showing Sitelinks to Nearest Locations on Brand Searches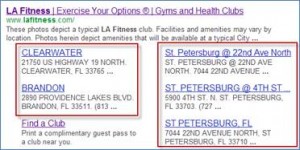 Last week Bill Slawski wrote about Google's categorization of web pages for use in local search. The patent he writes about is one in a long line of related works that discuss this sort of web page categorization. That or something very similar to it appears to be occurring that allows Google to include multiple locations per brand search in these locallly generated site link results.
Danielle Owens of Powerchordsystem.com sent along these screen shots that clearly show that Google thinks these pages that include local information for nearby locations to be important.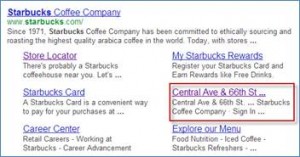 I don't look for these sorts of results that frequently so these may have been appearing this way for while. But if the message has not gotten through to brands both large and small with multiple locations this sort of display should make it clear: you need a stand alone local landing page for every location.
Google has never clearly indicated which pages they will include in their sitelinks display or why they will include them but here are some ideas that might help make these pages show for  brand searches.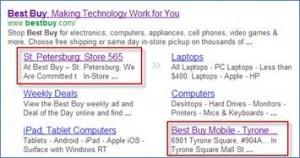 1- Have a local landing page for each location that is clearly Title tagged and optimized around location
2- Be sure that all locations are properly claimed and located in Google Places for Business and that it references the local landing page
3- Use that local URL in all directories and upstream providers
4- The location page includes complete address information that is marked up using Rich Snippets formatting
5- Reference each of these local landing pages in the sitemap and the KML file for the site
6- Make sure that the location pages are easily crawlable by Google and are not hidden by some search routine
7- The site architecture should relatively "flat" and the local landing pages are not too distant from the home page