Understanding Google My Business & Local Search
Google+ Local Bug: Service Area Business with Address Hidden Showing Address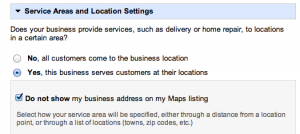 In Google+ Service Area Businesses (SAB in Googlespeak) that are in a residential area or do not accept walk in traffic are required to hide their address in the Places Dashboard. Normally this results in the address being hidden in Maps and Plus and a round pin showing
However since mid March there have been repeated reports of SAB addresses selected to be hidden that have their addresses showing up the Maps and Plus results. This was first reported by Linda Buquet but I continue to get inquiries about it and see new postings in the forum. This is a known bug and Google is aware of it.
The danger of course is that a listing might be deleted due to non-compliance with the rules. Google has indicated that 'MODERATORs' won't be deleting listings now due to the bug. That being said there are powerful volunteer MapMaker editors (RER in Googlespeak) that seem unaware of the bug as indicated  by this recent comment:
 If the address appears to be a SAB from the satellite/street view image or the website and the address is not hidden in Places, I have no problem marking the listing for removal. Rarely will I waste my time or cellular minutes to call a business to confirm.
It's (85-90% of the time) quite apparent if you have a business reception area or office and see customers at your location. Google Maps (and by extension Places) are for people to visit locations and a business that is primarily a SAB is of little use to someone on a mobile device looking for a business or service.
MapMaker editors, while often well meaning and hard working, often function autonomously and one wonders given their zeal and black and white view of the mapping world whether they are becoming the DMOZ editors of the new millennium. I am all for stomping out spam and making map data more accurate and marvel at the endless hour that RERs put in policing maps. But when the greyness of the real world is removed from judgement and there is a lack of over site bad outcomes will result.