Understanding Google My Business & Local Search
Google Map for iOS Ships
Late yesterday, as you probably already  know by now, Google Maps for iOS appeared in the app store. The product includes, turn by turn directions, transit directions, traffic information, street view and the ability to sync your searches and directions with your desktop.
The early (and frequent) reviews are predominantly and overwhelmingly positive. The legitimate criticisms offered include:
the inability to do offline navigation,a feature in iOS maps and critical with spotty cell service,
no iPad app yet
a lack of bicycle routes
slowness, choppiness and performance issues (definitely on the iPhone 4 but perhaps others as well)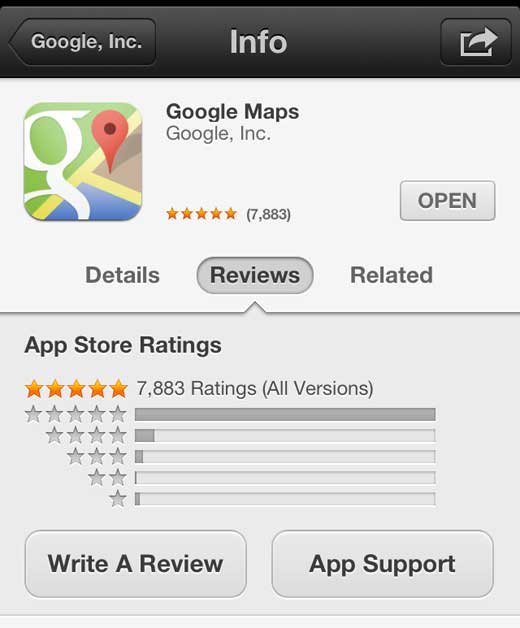 In my initial test, compared to iOS Maps, Google Maps is significantly faster at generating maps. Its ability to disambiguate and find locations is superior. And I assume that its database of places is better but I have yet to test that.
It does not however integrate with SIRI which from a car based "workflow" point of view is a huge drawback. Not necessarily Google's fault but a typical use case for me is to ask SIRI about a location and from there get directions. It is mostly hands off and very easy. Speed of map generation is not as important as the convenience of getting directions in a mostly hands free way that is critical. All in all Google Maps appears to be a great mapping product.
Amazing what Apple had to do to get Google to provide turn by turn on the iPhone. One wonders though, even with the hoopla how many iPhone owners will take the time to download and use this product instead of Apple Maps or whether Apple Maps is "good enough".