Understanding Google My Business & Local Search
What Makes for a Good Author Photo in the Local Results? (Part 2)
So which author avatar is the people's favorite?
Yesterday I promised to share the large scale (1500 responses) survey results as to which author avatar consumers would pick from amongst the local search results when they were asked: If you were selecting a lawyer based on these images, which would you select?

Surprised? I admit I was initially. The white, elderly looking republican type won and won by a statistically significant margin amongst the sample of the ~1300 responses used in the weighted results.
Which attributes caused Mr Old Republican to be more appealing? Was it gravitas? Age? Clothing? Shot distance? Colors? Facial expression?
You can find the complete results of the author avatar survey here. These results will allow you do your own faceted analysis of the data by various demographic criteria and you might want to do so prior to coming to any conclusions. Minimally before you go off and use aging software, change your tie color and redo your photograph read on for insights from Cyrus, AJ Kohn and Matt McGee…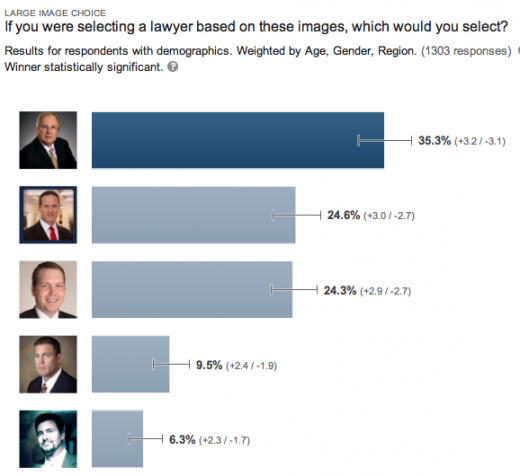 Surprise! The lawyer photo I choose only finished 2nd [editor note: the margin of error is such that their is a virtual dead heat between #2 & #3] in the survey out of 1303 responses. Here's what we can learn:
1. Where my initial assessment narrowly focused on which photo I thought would earn more clicks, the respondents were more interested in which lawyer they would actually hire, i.e. the conversion. While I still think my photo would perform well in real world search results, I would make more money for my client if I focused on actual conversions over CTR, and hence chosen a photo based on this criteria.
2. Looking into the insights, it's clear that different demographics preferred different photos. For example, women over 65 chose photo B (the oldest lawyer) as the winner, whereas women aged 25-34 preferred photo A [#3 above], selecting it 36.4% of the time. What this tells us is that your target audiences plays a huge role in choosing the right avatar. Factors such as age, sex, and cultural clues are huge. This means we shouldn't rely on cookie-cutter rules like "no borders" or "don't wear pink." The target demographic for a site about Justin Bieber will be much different than a site focusing on retirement law.
Not to oversimplify, but my new rules for choosing a good author avatar:
Start with a clear, high quality image
Understand your target demographic
Test, Test, Test
Fortunately, Google makes it easy to test author pics because once you change your Google+ profile, the new photos show up in the SERPs fairly quickly.


The user results are fascinating. The one I felt was stodgy but might convey authority was the one that ultimately won. This is why you test.
Now, the demographics reveal that this photo was very popular with older, rural and wealthy individuals. In all, it makes me think that the archetypal lawyer along the lines of Matlock or Perry Mason is what we still respond to – that portait in the plush waiting room. But there's also a thread here that we respond to those who mirror our own demographic.
Digging deeper it's interesting to see that women responded better to goofy face [Moses & Rooth] versus black border. I'm not exactly sure what to make of that but the flip-flop between these two along gender lines is intriguing.
Overall, I think we see that the type of author photo that works will depend a lot on the vertical as well as a myriad of other factors. Here it seems like authority and perhaps experience was more highly valued, though it's clear that the two second place photos did conform to the general best practices.
So I wouldn't run off and get yourself a boardroom style author photo of your own. Think about what your user might be expecting as well as know that different people will respond to different presentations. The latter could be an interesting way to ensure you attract the 'right' clients.

1) I'm not at all surprised that my preferred avatar wasn't the public's favorite. I think it's good for all of us in marketing to be reminded that we are not the target/average user.
2) I suppose it makes sense that the older gentleman is the winner. He was the preferred choice of both males and females, in all six age groups, every income grouping and all four U.S. geographic regions. In other words, this was a shutout.
Maybe it speaks to general desire for experience in an attorney. His photo is a total dud as far as I'm concerned (as are most of the others), but he's the only older-looking attorney in the group.
Either the voting public has a very different sense of "good design/imagery" than I do, or — more likely, I think — the look of the avatar isn't nearly as important as the person it portrays.
I would tend to think the latter is what's going on here. We're probably way over-analyzing the differences between avatars and putting too much emphasis on colors, contrast, zoom, etc., when the public is much more concerned about the actual person.
3) I wonder what the results would be if there was more variety in the avatars. A mix of male and female attorneys, a better mix of older/younger, and so forth.
Me

When I started this exercise I was confident that my choice of an open, smiling close up avatar was the best place to start. Now I realize that the human response to photos is nuanced AND it is very difficult to know with complete assurance . It is hard to measure those responses in a concrete way with the few tools that we have available to us. But that being said, this has been a useful exercise and does provide some insights as to where to start with your photos.
Before making any conclusions here are some survey considerations that you might want to think about in evaluating the survey results:
The nature of the question – I was specifically asking about lawyer selection. The question itself might bias the answer with some users giving you the answer they think you want.
Answer is self reported – a users action can often be different than their thoughts about what their action will be
Context – a survey is not a search result. The images are not presented in quite the same way and a users attitude at an entertainment or news site is likely to be different than when they are on the hunt for a criminal lawyer after getting arrested for DUI. The image sizes were not exactly the same and the other context of local search results were not present in the survey.
Survey Size – 1500 responses is more than enough to get a statistically useful answer at the top two levels of the survey…ie you can be confident with the overall results and if select one facet (sex OR urbanicity OR age) but go any deeper (ie sex AND age) and the margin of error and the small sample sizes make the results not very useful.
Specificity – I chose images from an actual market and an actual search result so as to understand consumers relative responses to the real actors in that market. As Matt points out that is probably not an indication of the absolute best avatar overall. On the other hand, a market specific approach using Google survey does offer special insights that do relate to the specific market. One could follow up the survey by switching out single photos and determine relative preference of any given avatar. If the sample size were larger, we could also tease out regional specific responses with more confidence.
Margin of Error – No survey proclaims perfection and Google's only claims accuracy + or – 3 points. That means that first and second could be much closer and that 2 and 3 could be as much as 6 points apart IN EITHER DIRECTION. Despite the use of hard numbers, do not take more away from the survey than was intended.
Other Research: There is a dirth of research on-line in the topic of what makes an avatar photo successful. Thus we have no additional sources to either corroborate or invalidate the responses. Google has done some research into the affect of photos and photo size in social annotations in search results. OKCupid did an article, 4 Big Mythes of Profile Pictures, with data generated from their  dating site in 2010 that gets quoted widely and of course Cyrus' tactical research on which photo worked best for him.
I do think that the survey is accurate as far as it goes (as far as any survey of this type goes) and the results are indicative of how the average population of adult internet users in the US would in fact choose amongst these avatars for these lawyers. There are still details that need to be considered. The reality is that your market may or may not be average. Your consumer may or may not be average and most likely you are not average.
I think we can conclude with confidence from the survey and the experts responses which images don't work. All agreed that the two lowest ranking photos in the survey didn't cut it. Was it because they were looking left? The darkenss of the images? The staid visages? We don't know for sure. And it would require more testing to tease that out. But my gut and yours seem to be trustworthy when making this judgement.
Identifying what will work given your specific market and demographic is not as obvious from the survey results. And our gut reactions are not as trustworthy on this front. Perhaps as Matt and AJ both point out, we are more likely to choose those that are most similar to us and we are not likely to be similar to the appropriate demographic. The clear difference between what men and women liked is but the tip of the demographic iceberg. Mr. Old Republican was popular overall but it was a dead heat in the burbs and he was not as popular with those under $75,000 income as those over.
So where should you start? Here are a list of starting points from my point of view:
A high quality photo, shot with a zoom level such that the facial details are visible, probably facing to the right, lighter rather than darker and a demeanor appropriate for the field you are in. I think the most important criteria is perhaps a less concrete one. It should be an honest photo that shows the best you. And, if possible, test.
Cyrus's suggestion of testing the impact of your specific photo is a good one but doing so specifically as it relates to local search results will be difficult. Google survey could be an inexpensive resource to compare your photos to your competitors.
Your thoughts? How would you structure a survey similar this to ferret out more meaning?