Understanding Google My Business & Local Search
Why I had to Take Chrome Off of My iPhone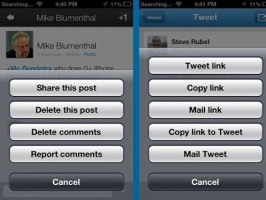 CNET writes that Chrome has gained a foothold in mobile but is a no show on the iPhone. Its not hard to understand why most users don't give it a try but I went so far as to install it on my iPhone was forced to remove it. Not only did it not do what I hired my mobile browser to do – or rather what Apple taught me a mobile browser should do- which is to allow me to easily share web content, it inserted itself into Google products at inappropriate times and places. I was continually and inadvertently opening it from within Plus even when I didn't want to.
I actually use and like the Google+ app on my iPhone with but one caveat – it doesn't allow sharing to any other communication service; not Twitter, not Facebook, not Texting and not even email. What is social content for but for sharing? I read a lot and Google+ , Twitter and my feeds (I am probably the lone user of Google's Currents iPhone app) have become a primary source for discovering interesting content. I share this reading with my wife via email, via text to my kids, to my peers via Twitter, etc. etc.
You get the picture. I share it. As should be done with social content. But the Google+ app only allows me to share a story to my Google+ circles. That is unless I open the content in Safari and then share it from there. Thus the sharing workflow on my iPhone was to find an article in Google+, open it in Safari where I might read it now or later and then share it from Safari to anyone and everyone that I thought would find it interesting.
The was until I installed the iPhone Chrome app. It inserted itself  in the Google+ app front and center just above Safari link. I would have left Chrome on my phone for research purposes and the occasional use but I kept inadvertently opening it when I wanted to open Safari. Even that would not have been a problem except… Chrome, like Google+, supports no social sharing.
I find Google+ to be a useful and valuable addition to my phone. It sits on the limited real estate of my front screen. Yet it, like Chrome, manages to disrespect a fundamental core feature set of the iPhone.  I often wonder how it is that Google, with such brilliant engineers, programmers and (now yes) designers manages to get it wrong.
Was it a business decision to limit sharing to Google only products? Or was it just an oversight?