Understanding Google My Business & Local Search
Nokia HERE Maps Sucks (Significantly) More Than Apple Maps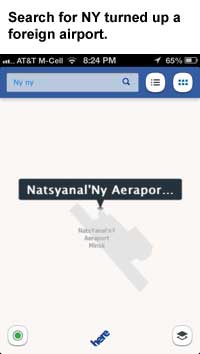 Nokia, with the help of Navteq, is a seasoned mapping company. Arguably they are in the top tier of digital mapping. Their new product, Nokia HERE Maps for the iPhone, should show Apple what good mapping is all about. It doesn't. In fact basic interface issues prevent the product from being a serious contender in the iPhone navigation market. Apple can now proudly say that there is a mapping product for the iPhone that sucks more than theirs.
Visuals: When I read reviews online about it being blurry, slow, ugly and lacking turn by turn, I couldn't believe that Nokia would put out an inferior product. Now is the time to strike while Apple is still recovering from their Maps fiasco and come out with a great product. I thought Apple fan boys were just ranting. I particularly could not understand a map that was blurry. But sure enough the maps are totally fuzzy, hard to read and annoying. The ONLY thing clear on the map was the "here" brand name. And as Andrew Shotland pointed out even that can be confusing in the context of a map.
Basic Interface Screw Ups: My first search was for 1 Riverside NY, NY. A search that both Apple Maps and Google Maps understands. Apparently Nokia HERE does not understand common abbreviations like NY for New York. When searching for NY it turned up a foreign airport who knows where. When I searched on SF, CA it turned up Santa Fe, New Mexico. Forcing users to type out every word on an iPhone is a big hurdle from the get go and not understanding common naming short cuts is a deal breaker.
Kludgey Interface: Generally the interface for anything other than basic directions is confusing. Certain tasks like looking up nearby business are totally opaque and often non functional. I searched for nearby Grocery stores and was shown a department store.
Business Listing Quality: As far as I can tell other than certain categories like food, entertainment and shopping these are missing altogether.
Routing: I do not live in a big city so my tests typically reflect testing a product's familiarity with back roads and short cuts. I figure if the product can get these back country roads correct far away from urban centers then the chance of getting the more important stuff right is far higher. Apple and Google both gave me a choice of routes although Apple gave the better choices and in its current iteration, a better way to select the route. HERE offered no such options and offered no alternative routing. It was their route or the highway so to speak.
Things Nokia HERE Has: It does offer public transportation routes which Apple does not. For me that is not enough to get by the egregious interface issues. They also offer the option to save a map for offline use, although the many warnings and caveats were discouraging. A map can take up to 13 mbytes of storage.
Bottom Line: Don't waste your time or bandwidth to download the product unless it is for a case study in the decline of Nokia as a force in the mobile world.
Some additional screen shots comparing Apple Maps & HERE Maps output (click to see images at full resolution):