Understanding Google My Business & Local Search
Google Local Search Results Where None Have Gone Before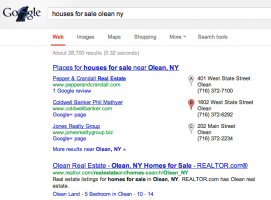 At a recent Local University, Googler Joel Headley indicated that Google desired to increasingly show local results whenever pinned results were appropriate and Google was able to show them. One area where this has become apparent is in Real Estate which are once again showing a broad range of pinned blended and pack results.
In 2009 Google rolled out an expanded real estate listing product. However that product was dropped in January of 2011. Before that period and until very recently, Google did not return any blended results for most real estate searches and the only local search in real estate that returned pack results was the very specific "realtors + city" search. Searches like homes for sale + city and houses for rent + city did not return 7 packs. Even the search real estate + city did not return pinned results.
However, at least since August, these searches are once again returning local real estate firms in the results. When Google does not have strong web + local inventory but thinks that there should be a local result, they will return a three pack. When there is solid inventory of local business listings that are doing well on both organic and local, Google is now consistently returning blended results.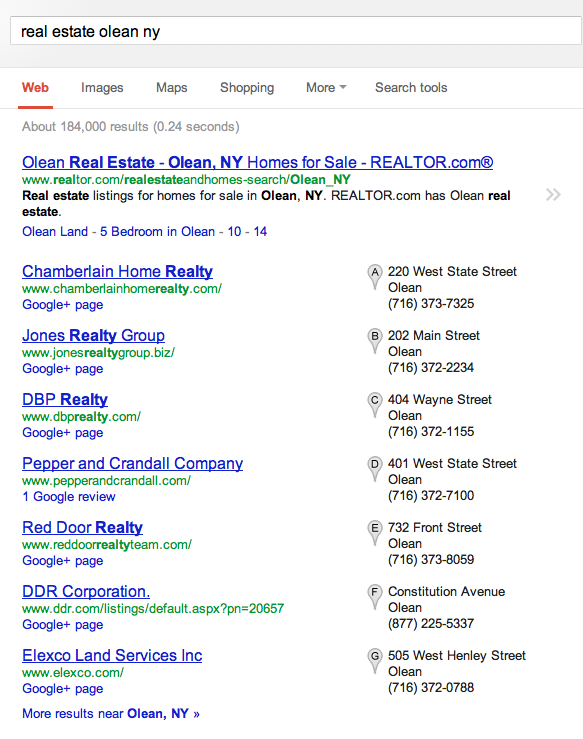 Other searches that historically did not return local blended results were job related searches like "jobs + city" and "employment + city" that are now also returning blended results. One market segment that still does not show blended or pack results are web designers, advertising agencies, SEO Firms and graphic designers. These categories of businesses were removed from local search results in December, 2009 and have yet to return. At the time Google noted:
Today, we're intentionally showing less local results for web design / SEO queries. For example, [web design sacramento] doesn't display local listings today. We believe this is an accurate representation of user intent. In some cases, we do show local listings, however (as NSNA/php-er noted) [web design in bellingham]. I'm sure some of you feel we should be displaying local results for queries like [Web Design Vancouver]. I understand that concern, but based on our understanding of our users, we feel this is the right decision for now.
I am curious if you seeing other local categories that previously did not show blended results now showing them?