Understanding Google My Business & Local Search
What Do Consumers Think of the iPhone Map App?
Much has been reported in the media about the iPhone Map App that Apple rolled out with the release of iOS6. The early reporting was anecdotal, apocalyptic or often just plain wrong but very little of it addressed the question of what consumers thought of Apple's new Map app.
What do they think? It would seem for most of them the iPhone Map App is a non issue.
To answer this question I created a survey in Google Consumer Surveys tool that ran from Friday October 5th through Sunday October 7th. The recent survey indicates that over half of current users of the new app were not affected at all by the app and over 91% fell in the "not going to jump off the Empire State Building" cohort. 74% were satisfied or perhaps just didn't notice. Only 3.2% indicated that the Map App would definitely prevent them from buying another iPhone in the future.
(click to view larger)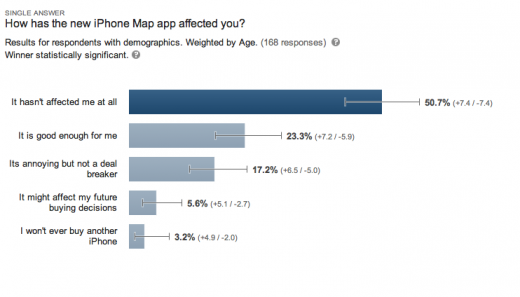 When you dig into the numbers a bit you can see some other interesting tidbits: Females were less disaffected by the product than males, folks older under 55 were more likely to indicate that they were happy and those over 55 were more likely to indicate that they were never going to buy another iPhone (ouch). Urban users were happier than rural one.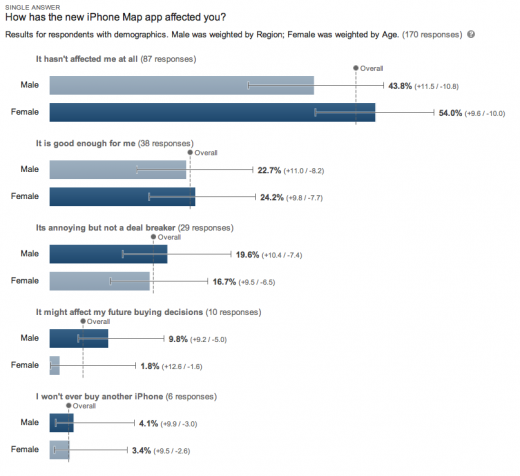 Won't buy another iPhone response by Age: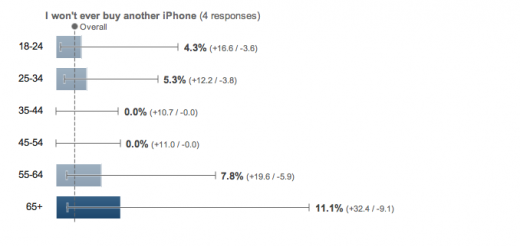 Won't buy another iPhone response by geography:

Methodology: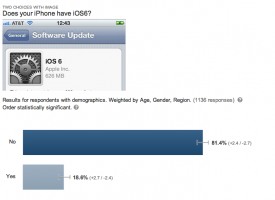 Google's Survey tool attempts to create a sample that is representative of the adult population in the country that you choose. Google noted that in this small (200 answers) of a survey that the primary level results are statistically significant. When you get into the secondary level like age, sex and geography differences the sample size is probably too small to take away any reliable conclusions. When possible, results are weighted by inferred gender, age and geography to make the sample as representative as possible of the US Internet population.
The survey was comprised of two questions that were presented to readers on the following types of sites Arts & Entertainment: 32.5%, News: 31.0%, Reference: 26.5%, Other: 10.0%. The publishers that carry the microsurvey share in the revenue. The first question, a qualifying question, asked whether your iPhone has iOS6. There were 1380 responses to that question of which 256 (18.6%) said that they did have iOS6 and 200 went on to the final question. To read more about Google's research on the accuracy of these surveys you can read this white paper.
Discussion:
All too often the tech world is out of touch with the mainstream of consumers. I am sure that Google is happy to see David Pogue write a (puff?) piece detailing specific searches and criticizing iPhone Maps and lauding Google Maps but the real question is: how does Apple's Map change affect real people in the real world.
As David Mihm noted to me in discussions: I think this survey speaks to a common issue in the tech community–namely, our insularity. Seems like EVERY innovation in the tech industry, whether it's the Facebook timeline, Twitter's API change, or Apple Maps' launch is quickly piled on by industry insiders, while the general public is largely oblivious or even dismissive of the supposed gravity of the change.
Andrew Shotland noted "my mother has iPhone 4 and has not yet updated to iOS6. I don't think this was because of the maps issue – more just a lack of tech savviness – but she did mention that maps thing and that she's glad she has Google maps on her phone. So it's possible that iOS6 adoption will slow down for a bit, but the pace will go from blistering to merely torrid. In only a couple of weeks iOS6 has become the #5 biggest Operating System across all of my clients. It's quite possible that by Xmas, it will overtake all of Android as the #4 OS. And at some point my mom will upgrade, particularly as the headlines die down and she wants some app that requires iOS6".
I had interviewed 6 iPhone users before embarking on this survey and found that very few cared about Maps and those that did found the new product to be quite satisfactory.
It would appear from these results that most users have little or no opinion about the change and that the level of dissatisfaction is very low. Despite the many, many negative reports in the press, it would seem that most users will not become less loyal or use the iPhone any less because of the mapping app. That in and of itself raises a number of questions: Are Maps less important to the average users than we assume? Are usage patterns such that most people just don't notice?
Questions for the Future: Due to the small size and the limited number of questions asked, the survey raised as a number of questions for future exploration.
First and foremost is just how much does the average iPhone user access a Map app and how much do they pay attention to any quality issues. What percentage of users rely on it daily, weekly, monthly or less? Do they do mostly directional and recovery searches or do they do a significant number of discovery searches? Or is that behavior left to other apps?
The secondary results, due to the small sample size, also raised interesting questions. Is the negative rural response due to poorer quality of the Map app in the hinterlands? Are the results indicating greater male dissastisfaction an artifact or a reality?
Conclusion: Despite the noise in our world, in the real world people are not very affected by this change on the iPhone. Its not going to slow down new purchases nor upgrades in any significant way. It might become a bigger problem in the future but it would appear that Apple has time to deal with the issues and to achieve greater parity with Google Maps.
If you would like to examine the survey and explore some of the demographic options you may do so here.