Understanding Google My Business & Local Search
Google Local Weekend Update
Here is Google's recent update for G+ Local and several other updates from around the web:
Here are Google's minute markers with my comments in italics:
0:01 Introduction
0:16 Listings take a week to go live, a few weeks for link from Google Places dashboard to work
It might take longer than a week depending on their internal build cycles.
0:40 Verified social pages now showing message if edit not accepted
This message appears: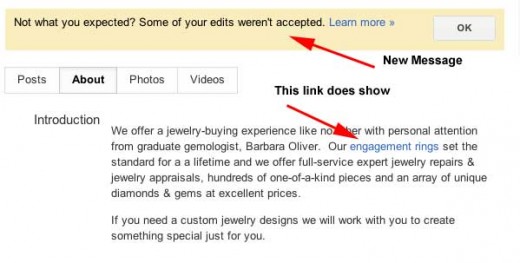 0:59 Fewer categories displaying because uncommon categories no longer appearing
Choosing from the list of auto generated categories increases the likelihood that a category or two will show. Maybe speculation in Linda Buquet's forum about categories changing dramatically is in fact the case? Clearly the missing categories is NOT a bug but an intentional decision on the part of Google. 
1:18 International phone number formatting issue with verified social pages
1:28 Formatting not appearing on owner descriptions
HTML tags are no longer showing but some rich text formatting is not showing although some is. Google has had problems showing rich text on local listings in the past and they finally seem to be fixing this issue. See above image. 
1:45 Google+ Local best practice: edit verified social pages via Google+
What happens if a page is edited via the Dashboard? Not sure but I am sure it isn't pretty. 
2:14 Forum tip: better mobile forum display, yay!
Some other updates that have occurred in local while I was traveling:
As first spotted by Joy Hawkins of Imprezzio Marketing, Google has finally, finally improved their messaging around businesses that have moved. Because Google's system does not handle the case of a business moving very well it has been necessary to close the old listing in Maps. This has resulted in the misleading message indicating that an active business had closed. Google has added some nuance to the message:
Also as noted by Linda Buquet, Google is now adding competing businesses to the rollover/rollout for a local business on the front page of search. If you need a reminder: you do not own the information, the local page or local search results. You can expect to see more of this going forward as Google monetizes G+.