Understanding Google My Business & Local Search
Local SEO Blocking and Tackling for Siri & Apple Maps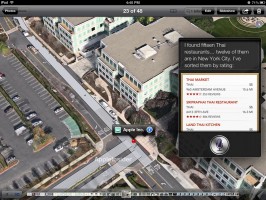 With the announcement of iOS6 and Apple Maps at the WWDC today, the shape of Apple's local search strategy started to become clearer. Greg Sterling pointed out this list of Apple's copyright attribution for their mapping product. From the list it is clear that Siri/Apple Maps basic listing data will be coming from Localeze, Axciom and, with additional review & ranking infomation, Yelp. And the mapping base layer from TeleAtlas/TomTom
Greg noted that he thought that TomTom was also a source for business data but a careful read of Apple's attribution page seems to indicate that Apple is just getting their mapping data from TomTom and its MultiNet system but not business data.
Obviously showing up correctly in Apple Local search is the first step and the first step to that is no different in practice than what you should have been doing right along… listing at all of the primary data suppliers for the local ecosystem; Localeze, Acxiom (& of course InfoUSA) as well as Yelp. If your listing process has only included one or the other of those sources you should expand your claiming process to include them all.
Axciom has a free front end tool as does Localeze & InfoUSA. UBL.org, as you probably know, also submits to Axciom and InfoUSA (& TomTom) although these primary data sources are both important enough that even if I submitted via UBL I would also consider submitting directly to them.
Localeze also has a free listing capability. If you have a traditional Ma Bell landline, the free listing option is probably adequate with Localeze. However be forewarned that if you or your client is using a VOIP or cell phone number, due to the technology that Localeze uses to verify a listing, the free option is not viable. In those cases you really need to submit a paid listing to Localeze to be sure that the listing is in fact verified.
In addition to providing basic NAP to the primary data suppliers, it makes sense to check TeleAtlas maps to be sure that your business addresses resolve correctly. Obviously a great deal of the use of Apple Maps will be for directions and making sure that your address is where you think it should be is critical. Historically their mapping data in the US has been less complete than either Google's or Navteq's.
Thus the basics of blocking and tackling of local search for Siri is the same as the desktop: NAP consistency at the primary data suppliers and checking the underlying map geometry and accuracy.
Ranking, at least so far, has taken on a very Yelpish color.  Matt Siltala did an excellent presentation at the recent Getlisted Local University Advanced on his observations vis a vis Siri and Yelp and some things that seemed to correlate well with rank. Here are some factors that seem to come into play in Siri ranking based on my observations and conversations with Matt:
Distance from the searcher
Yelp review totals
Keywords in review content
Yelp Premium partner status
Yelp Elite reviews
It will be September before iOS6 and Apple Maps hits the streets and another few months before it is widely used on all iOS devices. But unlike Siri, it will not be limited to the most recent phone only and should start to play a significant role in the local search arena. In addition given that it is a default app and includes turn by turn driving instructions its uptake should be very swift.
Time to get ready is now. Here are URLs Data submission forms noted above:
Localeze
Acxiom Manage Your Business Online
InfoUSA Express Update Service
UBL.org